Tarps blanket rows of diesel engines in a basement room of Indianapolis Public Schools' Career Technology Magnet. Across the hall, big rigs crowd a lab.
The vehicles and auto parts, worth thousands of dollars apiece, await students who will participate this fall in a program Navistar Inc. spurred six years ago with a $1 million grant.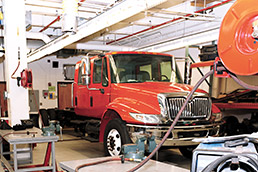 A lab at IPS' Career Technology Magnet includes semis for students to work on as part of a diesel technology class. (IBJ photo/Eric Learned)
The Illinois-based heavy-duty vehicle and engine manufacturer, which has a plant on Brookville Road near Emerson Avenue, helps the school develop the Truck and Diesel Service Technology Program's curriculum. Instruction ranges from understanding the intricacies of each diesel engine component to maintaining entire semi tractors.
After the students graduate, Navistar can tap a supply of well-qualified potential employees for the types of positions manufacturers consistently struggle to fill.
"All our dealers are short on technicians," said Rodger Jackson, Navistar's manager of vocational and technical outreach. "We need technicians. It's not just us. It's our competitors as well."
And without the financial support and supply contributions, the students would not have a class to attend, said Sarah Bogard, the career center's director.
Indiana's head of public education expects school-corporate relationships, like the one between Navistar and the Career Technology Magnet, to become ever more common.
Manufacturers—bedeviled by an underskilled labor force—seek highly trained career center graduates. Career centers—struggling with funding cuts—seek support from companies so classes can keep operating.
"I not only see those collaborations and those relationships increasing, I think they're going to become necessary," State Superintendent of Public Instruction Tony Bennett said.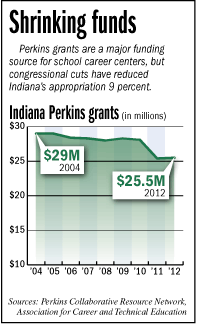 "In many instances, because the employers are working in the speed of business, they are much better equipped to partner with schools, get the schools what they need so the schools can respond with a work force that the businesses need."
Taking economic toll
Experts forecast a bleak future for Indiana's economy if manufacturers can't find talented, well-educated people—the kind who take initiative and spark innovation, even in factory-floor positions—to staff the state's largest and highest-paying employment sector.
About 10 million manufacturing jobs sit empty worldwide because there aren't enough people with the right qualifications for the positions, according to an April study by the World Economic Forum and Deloitte Touche Tohmatsu Ltd.
A separate study by the McKinsey Global Institute says the shortfall will swell to as many as 40 million jobs by 2020. By then, there will also be a surplus of 90 million to 95 million low-skilled workers, the institute reported.
Indiana for years has had a skills gap that has prevented people from finding work, said Michael Hicks, director of Ball State University's Center for Business and Economic Research.
The research center and Conexus Indiana released a report in June that gave Indiana a C- in human capital in manufacturing and logistics. The grade dropped from a C the year before.
If companies can't find qualified workers, they will invest more in automating their production process, putting upward pressure on the state's unemployment rate. That rate was 7.9 percent as of May.
"I think we've already passed the tipping point where you can feel the pain," Hicks said. "I think more than anything else, what we see when you hear of frustration about the economy, is the plight of the middle class. Really, it reflects a serious gap in human capital."
Smaller companies are struggling with a shortage of qualified candidates as well.
At Nixon Tool Co., a 30-employee machine shop in Richmond, managers relish the fact that the company has low turnover, since the pool of qualified job candidates is so shallow.
The precision machining business relies heavily on a career and technology school in Connersville to provide trainees.
"If you don't grab them soon, they'll get a job someplace else," Office Manager Rose Burroughs said.
Schools feel squeeze
The need for highly skilled manufacturing workers hasn't shielded the school programs that produce them from budget cuts.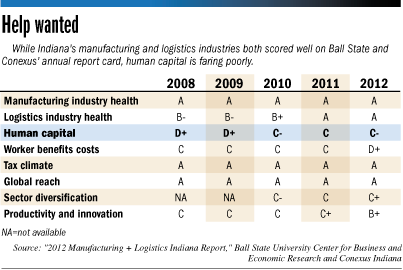 IPS has cut $27 million from its budget for this coming school year. As a result, the Career Technology Magnet has lost its advanced manufacturing class, among other programs.
Bogard, the center's director, is even more concerned with decreases in a federal grant.
Congress in 2010 cut $140 million, or 11 percent, from awards under the Carl D. Perkins Vocational and Applied Technology Education Act. The money covers operational and training costs at school career centers.
"They're not deep, scary cuts, but they're significant enough to be an issue," said Ashley Parker, a spokeswoman for the Association for Career and Technical Education.
Internal shuffling of resources within IPS is worsening the blow. Because of those changes, Perkins funding for the Career Technology Magnet will shrink from $1.3 million last year to $586,000 in the coming year, even as enrollment increases from 520 to 800.
Steve Hagen, director of the Central Nine Career Center in Greenwood, said the Perkins cuts underscore the need for school programs to diversify their funding sources and collaborate among themselves and with universities.
"It's not a matter of increasing [funding]," said Hagen, whose center pulls in about 1,400 students from nine school districts south of Indianapolis. "It's a matter of getting together and downsizing some of the overhead things. I've seen it work."
Corporate involvement
Bennett doubted that many career centers would receive direct corporate sponsorships—like Navistar's at IPS—to support school programs.
Instead, companies need to band together to make sure schools are teaching the skills their workers need.
One such effort is Conexus Indiana.
Conexus, a coalition of 44 manufacturing and logistics companies, in August will launch the Hire Technology online program at eight pilot schools throughout Indiana.
"Companies got together and they said to us, 'We need people who can do A, B, C, D, E, F and G," said Claudia Cummings, Conexus' vice president of education, work force and community programs. "And so we are making sure that when they complete [the program], they can do A, B, C, D, E, F and G."
Online tutorials introduce students to the subjects before they apply the skills in real-world shops and labs. Students at schools that can't afford the equipment can instead use the program's virtual labs.
Program graduates can earn national certifications that many manufacturers require as conditions of employment.
The program has virtually no costs for schools, Cummings said. Conexus, which is a branch of the not-for-profit Central Indiana Corporate Partnership, takes in private contributions to cover costs for development and implementation.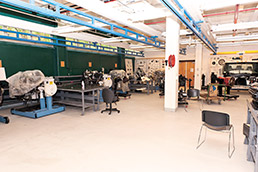 Navistar donated diesel engines to Indianapolis Public Schools' Career Technology Magnet. The Illinois-based manufacturer financially supports the class, and the class provides a potential work force to the company. (IBJ photo/Eric Learned)
Columbus, Ind.-based Cummins Inc., one of Conexus' partners, relies on the coalition's programs to not only train future employees, but also evoke interest in students so they consider manufacturing as their careers.
"A lot of it really has to do with helping kids understand it's not a simple turn a screw and you move something on," said Jean Blackwell, Cummins' executive vice president of corporate responsibility and CEO of the Cummins Foundation.
The company, like many of its competitors, works with students and their parents to break down the image of dirty, "old school" manufacturing in hopes of recruiting qualified workers in the future.
Cummins CEO Thomas Linebarger told investors in May that the company expects sales to increase from $18 billion in 2011 to $30 billion in 2015. But the company won't be able to keep growing if it can't find skilled workers, Blackwell said.
"We've just got to keep focused on it," she said about recruitment issues. "That could limit our growth, limit all of the manufacturers' growth, if we don't do better at it. But that's why we keep plugging away."•
Please enable JavaScript to view this content.