As the late Rodney King would say, "Can we all get along?"
It's not happening between Republic Airways Holdings and its Teamsters-represented pilots.
The union earlier this month sent a letter to the National Mediation Board, asking to be released from mediation as talks with the Indianapolis-based company made little progress.
If granted, the case would proceed to arbitration.
The two sides are trying to hammer out a pilots' contract to replace one that became amendable in late-2007. The Teamsters represents pilots for Republic's Republic Airline, Chautauqua Airlines, Shuttle America and Denver-based Frontier Airlines.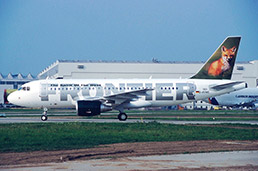 Republic has been trying to find buyers for part or all of its Denver-based Frontier Airlines division. (IBJ file photo)
The union said talks were undercut by management, when managers allegedly attempted to discipline a pilot working on behalf of the union and imposed a new pay rate and signing bonus to hire pilots outside of the negotiation process.
Republic hasn't been happy with the union, including what it says is a website maintained by Teamsters Local 357, in Plainfield, that scared away pilot applicants with negative depictions of the company and its practices.
Republic recently withdrew a request in federal court for an injunction to halt the website.
The sides are battling on another front. The Teamsters last year filed suit against the company in federal court in Denver seeking to invalidate agreements Republic made with the Frontier Airline Pilots Association just days before pilots ditched FAPA by voting for the Teamsters as their collective bargaining agent.
That agreement was part of a $120 million plan to reduce costs at Frontier. The deal included postponing wage increases and other concessions in exchange for a future pilot equity stake in Frontier.
Republic has been trying to find buyers for part or all of Frontier.
Please enable JavaScript to view this content.