OK, I'll admit it. When a local restaurant is in an underserved area—especially when it takes over the shell of another defunct restaurant whose emptiness brought down the energy of the neighborhood—I root for it.

So when Panorama Grill (901 N. Pennsylvania St., 423-3423) opened in the former Urban Element spot near the Central Library, I was hoping for more than a "good-enough" dining option when I need time away from the book stacks across the street.

What I found, though, was just a good-enough option when I need time away from book stacks across the street.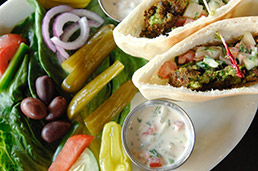 Panorama Grill serves standard Mediterranean fare, including falafel. (IBJ Photo/ Perry Reichanadter)
The most distinct thing about Panorama is the variety of seating in its single dining room. There are high tables in the middle, standard tables along the windows, and seats you sink into along the wall. (Good luck rising out of these if you've had a hearty lunch.)

The menu focuses on Mediterranean standards, but on our visit the lunch special was a Chicken Philly. There's something to be said for variety, I suppose, but highlighting a non-Mediterranean item—and the presence of cheeseburgers and BLTs on the menu—smacked of a lack of confidence in the restaurant's namesake fare.

These American options were not for

us. We opened with a Hummus appetizer ($5.95)—a mild, unmemorable version of the standard sesame seed/garlic/lemon juice puree served with a minimum of pita points. The Falafel sandwich ($6.95) came stuffed with a good number of chickpea balls packed into a pita with tomatoes, onion, parsley and tahini. They were crisp on the outside almost to the point of being overdone, but decent enough. The Gyro ($7.95) came with lukewarm rotisserie beef, a miserly amount of lettuce, onion and feta, and watery tzatziki sauce.

The central feature in the Chawarma entrée ($13.95) presented an acceptable array of tastes because it veered away from the all-too-common dryness of the dish. But the beef was a diamond in the rough compared to out-of-the-box-flavored rice and green beans. A bowl of Lentil soup was little more than just a side.

We would have tried some baklava or another housemade dessert, but five minutes after ordering it our waitress said the kitchen was suddenly busy with a party of six that just entered. Would we mind waiting another 10 minutes? Sorry, but the meter was running. And, besides, we were there first.•

–Lou Harry

__________

Second in a month-long series of "Grill" restaurant reviews.