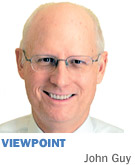 If the rise in the number of gated communities, and the apparently increasing desire of Americans to carry guns, is indicative, more Americans are establishing personal habits and lifestyles out of fear for their personal safety.
Nationally, more than 10 percent of living units are inside gates. Indianapolis is likely to be on the low side, with roughly 13 gated communities, while a casual observer finds many in Miami, including one in which my clients lived.
The clients moved from Fort Wayne to the most secure high-rise in Miami.
A visitor first passed through a gate to the complex and parking lot, provided that the visitor's name was on a list provided by the tenant. Next, the visitor had to pass through electronically controlled doors to the high-rise. After signing in with a guard, the next step was to pass through another electronically controlled door to a hallway having access to elevators. For entry into the unit, a doorknob lock was released, then a chain and finally a dead bolt.
"Gated communities churn a vicious cycle by attracting like-minded residents who seek shelter from outsiders and whose physical seclusion then worsens paranoid group-think against outsiders," author Rich Benjamin wrote in the weeks following the death of Treyvon Martin.
"Residents' palpable satisfaction with their communities' virtue and their evident readiness to trumpet alarm at any given 'threat' create a peculiar atmosphere—an unholy alliance of smugness and insecurity. In this us-versus-them mental landscape, 'them' refers to new immigrants, blacks, young people, renters, non-property-owners and people perceived to be poor."
More powerful in creating fear, where none should exist, is the gun lobby, recently represented by John Veleco, director of federal affairs, Gun Owners of America, who said:
"So where a young woman might be attacked by three much stronger men, she can equalize that situation by having a concealed firearm. [While police are minutes away], a firearm is right there at the point of attack. … We don't know when and where a criminal is going to attack. They can attack at a church, [or universities]."
Veleco's pitch is to a receptive audience, because Americans carry more guns than residents of any other nation. As gun ownership increases, and as commentators and interest groups promote them, fear becomes more intense, more widespread. If a friend has a gun, if an acquaintance is concerned about personal safety, then I, too, should have fear and acquire a gun, right?
Increasing fear comes from nowhere. The American crime rate has not risen for decades, and the homicide rate has fallen.
Crime-protection authorities uniformly argue that no person should take the law into his or her own hands.
Your concealed weapon has no deterrent effect. (Nevertheless, designers have started creating clothing to more perfectly, artistically, hide weapons on the body.)
America, what are you thinking?•
__________
Guy is an Indianapolis money manager, certified financial planner and president of Wealth Planning & Management LLC. He is the author of "Middle Man, A Broker's Tale."
Please enable JavaScript to view this content.