Motorists who've not driven U.S. 31 lately between Carmel and northernmost Westfield might be astounded.
Flyover ramps now soar above the highway—or what's left of it—south of 146th Street. Nearby, work is under way on a concrete passageway that will be topped by the highway's elevated earthen roadbed and carry cross-traffic beneath it.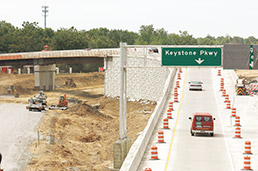 A 13-mile stretch of U.S. 31 will have 11 interchanges, including this one under construction at 146th Street. (IBJ photo/Perry Reichanadter)
This 13-mile, $600 million project carving through some of Hamilton County's fastest-growing suburbs from Interstate 465 north to State Road 38 is a temporary inconvenience to motorists, but for some business owners it's a life—or livelihood—altering event.
The Indiana Department of Transportation estimates it will have acquired land housing 49 businesses by the time work is completed in 2015 to turn U.S. 31 into what will essentially be an interstate highway.
So far, 32 businesses have moved or are in the process of doing so. The cost of acquiring businesses and homes thus far has totaled $25 million.
By some measures, a remarkably small number of business properties are being taken given the density of commercial development along the Carmel/Westfield border at 146th Street and, up the road, in Westfield.
One reason is that U.S. 31 through Carmel and Westfield long ago was realigned away from the previous Range Line Road, Old Meridian Street and Union Street corridors. Also, additional setbacks were put in place for neighboring buildings, said INDOT spokesman Will Wingfield.

"Relocations for U.S. 31 Hamilton County are less than would typically be seen for a major upgrade of an existing 13-mile highway," he said.
INDOT also has managed in the last three years to tweak the project design to avoid taking some properties that were previously in its path. Modifications to the plan, including a "judicious use of retaining walls," have saved such businesses as the Charleston's and Don Pablo restaurants near 146th Street.
Not so lucky was a strip of about a dozen businesses just to the north that included an M&I Bank, an F.C. Tucker real estate office and a Wendy's fast-food restaurant. They're needed for a ramp system and are in the process of being demolished.
Uncertainty the worst
But this relatively low casualty count doesn't reflect the unsettled way of life over the last several years for businesses and other property owners close to the highway.
Originally, Ashpaugh Electric, 17902 U.S. 31, in Westfield, was to have been relocated. Owner Brian Ashpaugh was dreading the expense and logistical nightmare of having to move inventory in his warehouse accumulated over the company's 40 years in business.
"But, in the last plan, my building will be spared … . This has been up in the air really for 15 years."
In fact, Ashpaugh added that he's "still not exactly 100 percent sure" the building won't wind up on the "take" list when work eventually starts on this stretch. "We definitely do not want to move."
Same goes for the guys down at Bob's Garage, an auto repair facility occupying a tidy, metal building adorned with orange stripe, at 16709 U.S. 31.
INDOT is "just taking some of the frontage," said Manager Bill Esler, "at this point," anyway.
"That's probably been our biggest challenge. Nobody knows where that line in the sand is going be drawn" ultimately, said Julie Sole, executive director of the Westfield Chamber of Commerce.
She's been attending meetings about U.S. 31 upgrade plans since way back in 1993. Over the years, property owners near the highway have wondered whether they should make improvements, such as putting on new roofs, given the possibility the property could be demolished for the road.
Such pondering helped shape the plans of Jeff Godby, principal of the Westfield-based Godby Home Furnishings store chain.
Six years ago, his firm built a store in Noblesville with the assumption his flagship Westfield store would be taken for the U.S. 31 upgrade (last year he also added a store in a former O'Malia's supermarket along U.S. 31 in Carmel).
"We still wanted to be in Hamilton County," Godby said.
For seven or eight years, he said, he heard little from the state about the status of the future highway overhaul, though he eventually got confirmation his Westfield store and headquarters site was doomed.
Godby, who said his warehouse farther west will be spared, said the store and office part of the property fronting the highway is still in the appraisal process.
Access another issue
In the meantime, Godby worries the company won't be able to absorb the loss of revenue when the Westfield store closes.
His next-door neighbor, Ashpaugh, said even though his location has been spared, he worries about the new access to his business. It's supposed to be through an office park area to the west.
Other businesses along the highway slated to remain also will have to deal with new access issues. Visitors to Tom Roush Lincoln Mazda, in Westfield, can now conveniently pull off the highway onto David Brown Drive/169th Street. But that cross-street will pass under U.S. 31, with no direct access to the highway after the project is completed.
Based on plans, it looks like access will be via the planned State Road 32 interchange, to the north, then onto city streets and eventually onto David Brown Drive.
Principal Jeff Roush did not return phone calls seeking comment on how he thinks the road project will affect his business.
Wingfield said INDOT is working with property owners and already has had hundreds of meetings. He said INDOT worked to help move businesses within Hamilton County "to minimize short-term impacts to employment and local tax revenues."
For instance, the agency has been leasing back certain properties to businesses such as the McDonald's in Westfield, which eventually will be demolished.
It leased back properties acquired from two banks until they opened new facilities. It's leasing back land acquired from Pilgrim Lutheran Church, near Interstate 465, which is in the path of the southern portion of the U.S. 31 project.
Sole is trying to look on the bright side. She wonders whether businesses that must move might find new homes in close proximity to Grand Park, a massive sports complex being constructed northwest of the U.S. 31/State Road 32 intersection.
"We're going to look back and say we're glad that we went through this," she said of U.S. 31.
The highway's effects on Westfield will be particularly pronounced. Not only will the landmark McDonald's be taken but so will a Taco Bell, across the street, and fueling stations on the other two corners.
In total, 106 acres of commercial and industrial land will be acquired as part of the 350 acres needed for the project.
INDOT officials did not immediately have an estimated grand total for what it will cost to buy all the land needed. But one estimate in 2009 pegged the total at $146 million.
Later this year, INDOT plans to invite bids for the remaining portion of the U.S. 31 project, which could be worth $300 million.•
 
Please enable JavaScript to view this content.