A publicly traded real estate investment trust has agreed to buy the tallest building in Indiana at a price that could give a boost to the local investment market.

Suburban-Boston-based CommonWealth REIT—which already owns downtown's 630,000-square-foot PNC Center—will pay $201 million for the 48-story Chase Tower in a deal scheduled to close in September, real estate sources said.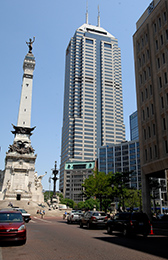 Signature tenant J.P. Morgan Chase is negotiating to extend its lease through 2025 for one-third of the 905,000-square-foot Chase Tower. (IBJ photo/Perry Reichanadter)
The deal works out to about $190 per square foot for both the 905,000-square-foot tower and integrated 153,000-square-foot Circle office building, which gives the complex its 111 Monument Circle address.

The sale price is $30 million more than the Class A building fetched eight years ago during a period considered a recent peak for office investment sales. The tower is 95-percent occupied, and its largest tenant—the bank J.P. Morgan Chase—is negotiating to extend its lease through 2025 for about one-third of the building, industry sources said.

If the deal closes as expected, the transaction would be the richest yet on a per-square-foot basis for a multitenant downtown Indianapolis office building. It also provides a price comparison for a handful of other downtown buildings up for sale, including Class A offerings such as Capital Center and Rolls Royce Meridian Center and Class B offerings like the Disciples of Christ Building at 130 E. Washington St.

The seller of Chase Tower is Beacon Capital Partners, also of Boston. Beacon bought the building in 2011 as part of a package of 14 properties it acquired for $1.7 billion from Charter Hall Office REIT of Australia. Beacon did not reveal prices for each property.

Beacon bought the portfolio intending to hold buildings with turnaround potential while flipping stabilized properties like Chase Tower.

The last time the property sold individually was in two transactions, one involving the tower and the other the building on the Circle, in 2004 and 2005. Macquarie Office Trust paid a total of $170.6 million for the complex in those transactions. (Charter Hall, a Macquarie affiliate, took over the property in 2010.)

Macquarie tried to sell the 1.1-million-square-foot office property as the real estate market bottomed in 2009. The asking price then was $180 million.

The pending sale price is "pretty impressive in today's world" and the buyer provides "validation" for the Indianapolis market, said Andy Banister, a vice president in the local office of CBRE who brokers investment property sales but did not participate in the Chase Tower deal.

"For the right quality asset, we can still attract the institutional buyers who will pay a premium to buy an asset like that," said Banister, who is working on a handful of sales of his own, including of the 650,000-square-foot Capital Center at Illinois and New York streets and Rolls Royce Meridian Center One and Two at Meridian and South streets.

A potential buyer is completing due diligence on Capital Center, and CBRE is considering a series of offers for the Rolls Royce buildings, Banister said.

Officials with CommonWealth, the Chase Tower buyer, did not respond to phone or e-mail messages. The firm represented itself in the deal, while brokers with the Chicago and Indianapolis offices of Jones Lang LaSalle and New York-based Eastdil Secured represented the seller. John Robinson in JLL's Indianapolis office acted as local broker.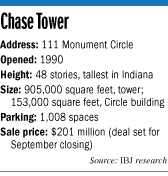 The previous high-water mark for a multitenant downtown office building came in 2004 when Market Tower traded for $160 per square foot. Around the same time, Macquarie picked up Chase Tower for roughly $155 per foot.

The prize for the market's richest deal is the $203 per square foot that Franklin Street Properties of Massachusetts paid in 2005 for One and Two River Crossing, next door to the Marriott North Indianapolis. The same company in 2010 paid $42 million—a cool $196 per foot—for the single-tenant Monument Circle headquarters of WellPoint Inc., though it was the insurance giant's creditworthiness that drove that deal.

The price for Chase Tower seems reasonable based on prior sales, easing financing markets and the pending lease renewal by Chase, said Jon R. Owens, a principal in the local office of Cassidy Turley.

The lease renewal by Chase takes more potential sublease space off the market, which should help put a floor under rents, he said. And the investment by a well-capitalized real estate investment trust gives some support to values.

"It's a trophy, icon property in the market so you want a stable owner," Owens said.

CommonWealth also owns the 630,000-square-foot PNC Center, along with a 72,000-square-foot medical office building at Interstate 465 and Michigan Road and the 72,000-square-foot Fidelity Plaza Tower II in Carmel. A sister company in 2011 acquired the three main office buildings at Intech Park on the west side from a Chicago developer that had partnered with locally based Lauth to develop the 200-acre project.

A few other prominent buildings hit the market for sale in recent weeks. The 12-story office building at 130 E. Washington St. with tenants including the Disciples of Christ, Angie's List and USA Gymnastics, is up for sale with an asking price of $16 million. And the Capital Improvement Board of Marion County has begun soliciting bids for the historic, six-story Ober Building at the southeast corner of Pennsylvania and Maryland streets.•