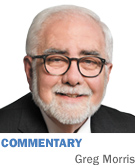 We're a few days away from what should prove to be one of the most exciting racing weekends in memory. It's the Super Weekend at the Brickyard, which, from July 26 to July 29, will command the attention of American stock car racing enthusiasts and North American sports car fans. The NASCAR Nationwide Series and the sport of Grand-Am Racing will make their debuts at Indy, marking the first time races will take place on both the 2-1/2-mile oval and the road course during the same weekend.

However, not all the exciting racing that week is taking place at the Indianapolis Motor Speedway. Just like Ron Popeil says in his famous television infomercials for rotisseries, knives and other products—"But wait, there's more."

You'll find competitive racing taking place in another part of Indianapolis leading up to the Super Weekend at the IMS. You might not be as familiar with this type of racing, but it's an important part of the industry—it's the grass-roots level, where many youngsters get started in the business of racing. I'm talking about USAC's quarter-midget racing. It's a popular sport worth your attention. And the sport's biggest event of the year just happens to be the week leading up to all the action at the IMS.

The fourth annual "Battle at the Brickyard" quarter-midget event, sanctioned by USAC, takes place July 25-28 at the Mini-Indy oval, at the Indiana State Fairgrounds. Practice is July 25 and racing starts July 26 and runs through the weekend. This event is always a highlight of the quarter-midget racing season, and you can expect to see a qualified field of accomplished young racers from right here in Indiana along with participants from all across the country.

I was introduced to quarter-midget racing by Indianapolis businessman and entrepreneur Paul Lushin. Paul has been instrumental in training IBJ Media sales staffs over many years through his business, Lushin & Associates. His two youngest sons, 10-year-old Bennett and 9-year-old Addison, are quite accomplished quarter-midget racers. The family hits the road 40 weekends a year to go racing. Just like other families that travel extensively with their kids who participate in better-known sports, like baseball and soccer, it's a major commitment.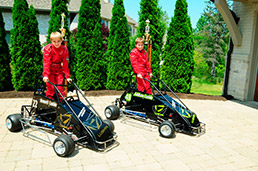 Bennett Lushin, 10, and and his 9-year-old brother, Addison, are accomplished quarter-midget racers. (Photo courtesy of Paul Lushin)
Quarter-midget racing is a character-building experience for kids ages 5 to 16. Whole families get involved as part of the racing team—Mom, Dad, siblings and grandparents. But once the race starts, these youngsters make their own decisions on the track. As you might imagine, safety is of the utmost importance, so there is special equipment and specific rules to safeguard the young drivers.
Beyond the racing aspect of this venture, the sport grooms new entrepreneurs. Whether these kids participate in local races or travel coast to coast throughout the year, it takes money to keep the teams going. That means sponsors are needed. The kids actually have to make cold calls and try to drum up sponsor support. It's a great learning experience all the way around.

So, check out quarter-midget racing. You can start by looking at a few websites—mini-indy.org and usac.com. Get your kids involved. Get the whole family involved. As a business, sponsor a kid's racing team. You could be helping to develop a future IndyCar, NASCAR or Grand-Am champion.

And yes, as mentioned earlier, there's also some big-time racing in town. Beginning July 26, you'll be able to see NASCAR Nationwide Series practice, qualifying and racing; Grand-Am Continental Tire Sports Car Challenge and Rolex Sports Car Series practice, qualifying and races; and NASCAR Sprint Cup Series practice and qualifying. The four-day race fest will culminate with the 19th running of the Brickyard 400 race July 29.

It's an exciting time for racing in Indianapolis. I hope you enjoy all the action at the IMS. Additionally, please support the future stars of racing, those young drivers coming up through the ranks of quarter-midget racing.•

__________

Morris is publisher of IBJ. His column appears every other week. To comment on this column, send e-mail to gmorris@ibj.com.