"Snapshot: Painters and Photography, Bonnard to Vuillard" (through Sept. 2 at the Indianapolis Museum of Art) doesn't always deliver what it seems to promise.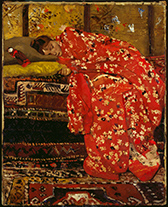 The connection is clear between George Hendrik Breitner's "Girl in a kimono" photo, below, and his similarly named painting, above, "Girl in Red Kimono." (Photo courtesy of Noortman Master Paintings, Amsterdam, on behalf of private collection, Netherlands )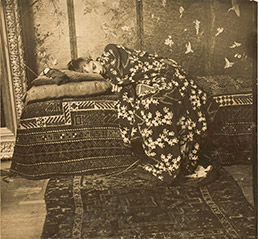 (Photo courtesy of Collection RKD (Netherlands Institute for Art History), The Hague)
Focusing on an era when painters began using newly available cameras as a new way to see and capture the world, the exhibition seemed to offer a study in contrasts between photographic "rough drafts" and the painted work that resulted from them.
Sure, there are examples where the connection is clear. In George Hendrik Breitner's "Demolition of Oudezijds Achterburgwal," for instance, ramshackle black and white turns to earth tones but maintains the patchwork quality of the original photographs. Or Maurice Denis' "On the Beach [Two Girls against the Light]" in which the photograph's central child—and the two girls' features—are missing, but the spirit of youth barefoot on the sand is clearly connected.
But many of the pieces displayed don't have a direct connection between snapshot and painting. And that's OK. The richer echoes of this strong exhibition come from seeing artists in one medium play in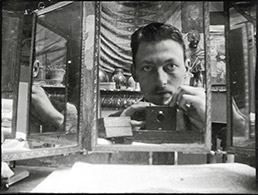 Henri Evenepoel's, "Self portrait in three-way mirror, 1898." (Photo/Royal Museums of Fine Arts of Belgium, Brussels, Archives of Contemporary Art in Belgium.)
another, with varying degrees of seriousness and accomplishment. Some of the photographs are indistinguishable from something you might find in an ancestor's trunk. Others would stand up in an exhibition of their own.
The seven Post-Impressionists showcased here used the tools of the new medium in a variety of ways, from Henri Evenepoel's mirrored photograph in service of self-portrait to Henri Riviere's thrilling series of photographs of the construction of the Eiffel Towel. These photos became the starting point for his graphic-novel-like lithographs. It all adds up to a unique and eye/shutter-opening show.
____________
Staging a musical about the rise of Nazi Germany in a former Das Deutsche Haus should inspire something more than what's on hand in the Bobdirex production of "Cabaret" at the Athenaeum (which ran July 6-21).
Alas, this was just another OK staging of the Kander and Ebb classic—one in which a handful of potentially terrific performances were watered down by technical problems and a lack of momentum.
It would be easy to blame the venue, where sound bleeding in from the biergarten is a common annoyance. Or the tech equipment. Body mics cut in and out with pops that sometimes sounded like British bombers were doing some pre-war raids.
But those can be passed over if the right tone is found for the rest. "Cabaret," though, is tricky business. Polish it too much and you don't feel the decadence of its seedy Berlin nightspot milieu. Roughen it up and, as here, it can sometimes feel amateurish. With the lackluster band tucked away in a balcony box, it was never clear if they were trying to play unpleasantly or if that's just an unfortunate effect of a limited production. And the production never figured out how to effectively use the problematic Athenaeum space.
Not that there weren't winning moments. Ben Tebbe took what is often the bland lead, writer Cliff, and gave him an eager charm that arced nicely into bitterness when things got ugly. By the end, I believed he had matured into the writer he wanted to be, paying a dear price for that experience.
Paul Nicely also managed a smooth transition from charming host and friend to Nazi stalwart. There was a striking power to Miki Mathioudakis' Fraulein Schneider, which made her ultimate compromise even sadder. And in Claire Wilcher's hands (and magnificent voice), Sally Bowles' manic tendencies didn't come from an iconic character but from a not-so-bright, out-of-place woman in fear of slowing down and being discovered for the person she is. Her angry take on the title song may well have caused the spilling of a few biergarten beers on the other side of the wall.
Jason Johnson's work as the emcee might have seemed strikingly original when Joel Grey still owned the role. But in the new world order, it just seemed derivative of Alan Cumming, who reimagined the part in the most recent Broadway revival.
Those unfamiliar with that production might have had a more satisfying time.•
__________
This column appears weekly. Send information on upcoming arts and entertainment events to lharry@ibj.com.
Please enable JavaScript to view this content.