NoviaCare Clinics LLC will open a multi-employer health clinic in downtown Indianapolis this fall, opening the door for smaller employers to add the service to their health benefits.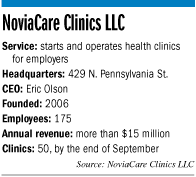 Indianapolis-based Novia will construct the 1,200-square-foot health and wellness center on the ground floor of the Stenz Management building at 429 N. Pennsylvania St. It expects to open the clinic in mid-October.
Novia's work force, which is already housed in the building, will use the clinic, and the firm is in discussions with five other downtown employers. It has provisional commitments from Harrison College and the law firm Plews Shadley Racher & Braun LLP.
Both firms say they still need to hammer out financial details before sealing the deal.
Combined, the three employers already committed will pay for more than 400 employees and their dependents to use the clinic. But Novia officials say they need at least 1,000 employees to make the costs per employee reasonable.
"The moment that we saw that the first floor space would become available, we moved very quickly," said Todd Foushee, Novia's chief operating officer. "Obviously, we want to make it available to our own employee staff."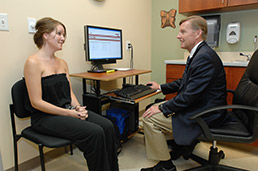 Dr. Charles Hodges talks with patient Christy Orusa at a NoviaCare Clinic in Fishers. Novia will have 50 employer clinics in operation by the end of September. (IBJ photo/ Perry Reichanadter)
Even though Novia popularized the idea of operating a primary care clinic at Indiana worksites and will have 50 clinics open by the end of September, it did not have one for its 40 employees at its headquarters.
On-site clinics allow employers to provide free access to primary care and wellness services, including lab work and some common generic drugs, but to obtain those services at wholesale instead of retail prices.
That savings, as well as a hope that improved access will help keep employees healthier, has driven more and more Indiana employers to embrace the concept.
But like Novia, many employers have been frozen out of the clinic concept because they have too few employees—or too few of them in any one place—to support one. That has been changing in recent years, but Novia's downtown clinic signals a coming wave of multi-employer clinics.
"It's easier for other employers to join in now" with existing clinics, said Bryan Brenner, CEO of First Person, an Indianapolis-based benefits adviser to employers. "We're beginning to see a little bit of activity on that."

Foushee
If employer demand proves high, Foushee said, Novia could expand its downtown clinic to as large as 2,000 square feet, add a second physician or nurse practitioner, and serve as many as 2,000 employees.
Or, Foushee said, Novia might look for another downtown location in which to start a second multi-employer clinic.
Novia already operates 17 clinics around Indiana and a few other states in which multiple employers participate. Most were started by a large employer, such as a county government, then added smaller employers later.
Other on-site clinic operators have similar arrangements. For example, Indianapolis-based Activate Healthcare LLC operates a clinic for the Monroe County government in Bloomington, and some other local employers have paid to get their employees access, too.
Brenner said the Hamilton County government is now searching for other employers to join its recently opened on-site clinic. And Brenner himself has had discussions with HHGregg Inc., the Indianapolis-based electronics retailer, for his employees to be able to use HHGregg's clinic, on East 96th Street.
"If you can split the costs, you can also get it open more hours. Or maybe you can add a health coach or a dietitian. You can also start to offer more services," Brenner said. "Flexibility is only created through volume."
Novia's clinic will be full service. It will be open 40 hours a week, whereas many employer clinics are open only two or three days a week. It will be staffed by a physician or a nurse practitioner, a nurse, a medical assistant and a health coach.
Novia's Foushee said he is primarily pitching the clinic to employers with work forces from 50 to 300.
That suited Plews Shadley perfectly. The firm has 65 full-time employees and knew it could not sustain its own clinic, said Managing Partner John Bridge. So instead, Plews Shadley's employees will have a one-mile drive south from their offices at 14th and Delaware streets to visit the Novia clinic.
"We've found that an average doctor's visit takes about half a day," said Bridge, who also serves as Novia's general counsel. "And a lot of people can't afford that time. Or they won't take that time off."
The Novia clinic also overcame a hurdle for Harrison College, which operates for-profit technical colleges around Indiana and in Ohio. It investigated starting its own clinic last year but found the $100,000 build-out costs too steep.
Under the Novia arrangement, Harrison and other users of the clinic would pay a few extra dollars per employee per month to help cover build-out costs, until those costs are completely paid.
In addition, employers would pay Novia a monthly management fee for each employee covered by the employer's health plan. Novia officials declined to disclose those fees, but they typically fall somewhere between $5 and $30 per employee per month.
"Having multiple employers involved does make it a little easier for us," said Bob Boudrot, vice president of human resources for Harrison College.
If the deal is finalized, the Novia clinics will be used by Harrison's 175 employees at its headquarters at 500 N. Meridian St. as well as the full-time employees at its campuses on East Washington Street, Brookville Road and West 96th Street.

Olson
Boudrot hopes Harrison can find other Novia clinics near its other campuses around the state in order to provide access to more of the school's employees.
The downtown clinic will be the latest in what has become a huge growth year for Novia, which raised $2 million last year in equity capital to fund its growth. The company already has opened 15 clinics this year, and could open more by year's end.
Revenue has been rising 40 percent per year and now tops $15 million.
"We're expecting to see that continue into the future," Novia CEO Eric Olson said. He added, "Employers and employees are looking for solutions to rising medical costs."•
Please enable JavaScript to view this content.