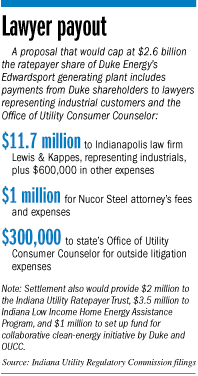 Indiana regulators should reject a settlement between Duke Energy Corp. and customer groups to cap ratepayers' share of its Edwardsport plant at $2.6 billion because Duke hasn't explained how it calculated $14 million in legal fees it plans to reimburse attorneys for those groups.
So argue Citizens Action Coalition, Sierra Club, Save the Valley and Valley Watch in a July 23 filing with the Indiana Utility Regulatory Commission.
Ostensibly, they want assurances that attorneys for customer groups haven't been offered a "sweetheart deal" by Duke to settle. Indianapolis law firm Lewis & Kappes, which represented industrial customers, alone would receive $11.7 million under the settlement.
CAC's filing ultimately, however, is intended to scuttle a proposed settlement it says will still saddle customers with too much of the controversial plant's price tag.
Duke has spent close to $3.3 billion on the southwestern Indiana coal-gasification plant, which is expected to enter service early next year. The original cost estimate was $1.8 billion.
Indiana's Office of Utility Consumer Counselor is a party to the settlement, which would shift $700 million in Edwardsport overruns to Duke shareholders, rather than to customers of the state's largest electric utility.
"The issue we have is, we don't really know what [legal fees] are based on. … We need some explanation. That's really our point," said David Agnew, a New Albany attorney representing the CAC coalition.
But the attempt to short-circuit the proposed settlement on grounds that opponents lack detail on how attorney's fees were calculated is a long shot.
CAC tried it before—at an evidentiary hearing at the commission early last month—but failed.
"The burden of proof rests with the proponents of the settlement agreement to convince the [commission] that the terms of the agreement are fair," Agnew argued at the time, "to avoid the possibility of collusion."
The inference of collusion drew a pointed response from Lewis & Kappes, the law firm representing several Duke industrial customers.
Lewis & Kappes attorney Jack Wickes said CAC should have filed evidence alleging misrepresentation or collusion, rather than "show up on the morning [of the hearing] and suggest that you guys can't approve this because we're not sure that the Lewis & Kappes attorneys sold out."
Agnew responded that he was not alleging collusion but that settling parties have the burden to prove the basis of attorney's fees.
Wickes argued that it wasn't the duty of the attorneys involved in the settlement "to come forth and say, 'We're not crooks.'"
The commission agreed during last month's hearing and denied CAC's motion. Subsequently, on July 23, CAC filed a document essentially re-arguing its case.
All the parties involved in the settlement have until Aug. 17 to file proposed orders. The commission by year's end is expected to make its decision on whether to approve the settlement.
Asked whether the OUCC had concerns about the size of the legal fees, agency spokesman Anthony Swinger noted that Duke shareholders, not utility customers, will be shouldering the cost.
"The OUCC signed on to the agreement because of all of its terms as a whole," Swinger said.
Lewis & Kappes said it used a method of determining legal fees that is widely accepted by the commission.
Wickes told IBJ the proposed settlement "resolves a highly contentious, complex case involving billions of dollars and with significant legal uncertainties for both sides, in a manner highly beneficial to ratepayers."
He said Duke presented a formidable array of highly compensated witnesses.
"It was a hard-nosed, complicated case. … We got a hell of a great result" for ratepayers, Wickes said.
Duke said it is not unusual for settlements before the commission to include attorney's fees and expenses.
"This also was a complex and extended proceeding with months of legal discovery, extensive testimony and more than 25 days of hearings," said Duke spokeswoman Angeline Protogere.
This settlement follows one reached in 2010 to cap costs on the plant's snowballing price tag. But that deal was withdrawn late that year after Gov. Mitch Daniels fired IURC Chairman David Lott Hardy.
It later became public that Hardy allowed a commission attorney to continue hearing cases involving Duke even as the attorney was seeking employment with the utility.
In addition, e-mails showed Hardy was chummy with Duke's top executives in Indiana and had met privately with them about the rising costs of the plant.
Those top executives were later fired by Duke, along with the commission attorney who'd been hired by Duke.
A grand jury indicted Hardy on three felony counts in December. He is awaiting trial.•
Please enable JavaScript to view this content.