Season subscriptions, which for decades helped provide stability to performing arts organizations, are in decline here and across the country—and that's forcing marketing managers to get aggressive to fill seats.
The shift has meant organizations staging musical and drama productions increasingly must rely on single-ticket sales. But for many groups, marketing individual shows is more complex—and more expensive.
Indianapolis groups are confronting the challenge as they prepare to launch their 2012-2013 seasons.
Last year, for the first time, more patrons attending Indianapolis Symphony Orchestra events held one-time tickets than season tickets, said Cara Arnett-Jenison, marketing manager for the orchestra.
"It's not such a huge commitment, not such a scary commitment," she said.
Over the last four seasons, the number of households subscribing to a full, 20-show ISO season dropped 24 percent—from 144 to 109.
During that time, single-ticket sales continued to slowly rise, she said. The organization declined to release specific sale amounts, saying the variety of show types skews numbers.
The change has been so significant that the ISO revisited its entire marketing strategy for this season, which starts Sept. 28, said Jackie Groth, the group's interim CEO and chief financial officer.
Season subscribers can save as much as 20 percent per ticket. They also receive other benefits, such as discounts at restaurants.
But people today are less willing to bear the upfront expense and commit to multiple shows, said Michael Rushton, director of Indiana University's master's program for arts administration.
Some groups nationwide have seen such sharp declines in subscriptions that the organizations dropped them altogether, Rushton said.
"With increased uncertainty, people are sometimes unwilling to lay down a large amount for a season subscription if they're unsure whether they'll be able to afford that or see all the shows," he said.
In response, performing arts organizations are retooling how and when they market.
The ISO uses direct mail to reach out to subscribers. It is a low-cost form of communication that is usually successful with its traditionally older demographics.
"They've been getting mailings and expect mailings from us," Arnett-Jenison said.
In general, the quality of the organization and all its performances—not just one show—sell season tickets, arts organizations say.
"If you're going to buy a season ticket, you don't need to know all about the show. You don't need to read the press release about it. You don't have to hear about the actors," said Dave Roark, marketing manager of the Indiana Repertory Theatre. "You just know, 'OK, that sounds good,' or, 'I heard about it from New York.'"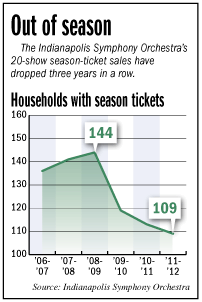 IRT's season-ticket sales have fallen, but remain too significant to warrant shifting marketing strategies, Roark said. IRT sold 7,500 season tickets for the 2011-2012 season, and 22,000 single tickets.
For many arts organizations, the pressure ramps up each year in late summer, when single tickets go on sale.
Each show has its own campaign, which means reworking the message each time to fit the individual performance and spending more on radio and newspaper ads.
"It's definitely harder," Arnett-Jenison said. "And it's more expensive."
Smaller, cash-strapped groups might not feel they can afford the staff needed to pull off event-by-event marketing, Rushton said. But if they don't spend the money, they could be stuck with empty seats.
"When thinking about staffing those various positions—are these positions that pay for themselves essentially?" he said.
Organizations that have been able to maintain or restore subscriptions often have done so by rolling out flexible ticket packages.
ISO has signed up 59 "Your season, your way" subscribers, who can pick five shows instead of committing to a full season. IRT has seen similar success with its flexible packages. Instead of selling only full, six-play seasons, it introduced three-performance tickets.
Rushton said performing arts connoisseurs want to have a "full menu" of options.
The Center for the Performing Arts in Carmel has seen a steady decline in subscribers since starting with 3,400 in the half-season that began in early 2011.
Marketing Director David Anderson said subscriptions dropped to 3,000 for 2011-2012 and are expected to be around 2,500 for the season that began late last month.
Anderson said he's OK with the decline. He said the center's broad range of shows—from Doc Severinsen to The B-52s—make it well-suited for individual ticket sales. He said it's also difficult to sell subscriptions because each season has a different number of shows, with varying seat pricing.•
 
Please enable JavaScript to view this content.