The former head of the Greater Indianapolis Chamber of Commerce has taken the top position at a technology startup.

Dorson
Roland Dorson, who stepped down as president of the chamber in April 2011, begins Aug. 13 as president of Indianapolis-based ViewYou.
ViewYou, which launched in October 2011, provides matchmaking services for job-seeking college students and companies with open positions.
For a fee, a customer can make a professionally shot video resume and develop an online profile. An employer looking to hire then can peruse a database for candidates.
The role is a dramatically different one for Dorson, 57, who left the chamber after an apparent fallout with the organization's executive committee.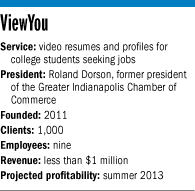 The century-old not-for-profit had 55 employees, almost 100 board members and $5 million in revenue.
At ViewYou, Dorson will be one of nine employees. The Web-based enterprise had less than $1 million in revenue in its one year of operations.
But it's Dorson's background with the chamber—and the connections he made there—that ViewYou hopes will help the new tech firm take off.
"The baby isn't yet a year old, so we're still figuring out exactly what marketing strategies look like, pricing strategies, and all of that is fluid," Dorson said.
Karl Ahlrichs, a human resources consultant with Indianapolis-based Gregory & Appel Insurance, said Dorson's skills from the chamber are what any technology-based human resources service would need.
"They're basically an online service business with the core of the business plan being building a network. The chamber of commerce is pretty much the same thing," said Ahlrichs, who was a founder of ExactHire, which provides technology solutions for human resources.
ViewYou launched with $150,000 in funding from the three founders: Jason Randolph, Rick Anderson and Mark Bernstein. The business later secured additional private investments, but Randolph would not disclose the amount.
Randolph previously worked in health care and politics; Anderson started a manufacturing sales agency; and Bernstein worked in TV, sales, consulting and training.
ViewYou clients can use the company's website to develop profiles that use videos as centerpieces.
Much as they would with traditional cover letters, students lead with personal introductions that explain their qualifications. Then they answer common questions, such as, "What qualifications do you have that will make you successful in this field?"
"I think of it in terms of, these are paperless resumes," Dorson said. "Students get to do videos online, which is the way students think about things. I used to do a resume on paper. That's a thing of the past."
Below the video clips, prospective employers can review standard resume information, such as work experience and education.
Randolph and Dorson emphasized that ViewYou is not like websites such as LinkedIn.
Their service, they said, is not a social network that publicly displays profiles. Instead, job candidates provide companies with access through their direct interactions.
"We are not a network. We are a repository," said Randolph, 42. "And we have to remind ourselves because customers try to pull us in other directions continually."
Dorson will spend the first few months at his new job focusing on launching two more products. One—slated for release early in the fourth quarter—is a lighter version of what ViewYou already offers.
The company visits college campuses nationwide to film students' profiles, but many potential customers can't make it to the schools. So for a lower fee, students can shoot their own video resumes and upload them to profiles.
The other new service, known as ViewYou Intro, will target employers. It sets up video questions and answers for application processes.
Companies can post links on their online job applications that drive candidates to a list of questions on ViewYou. Candidates then use their computer cameras to record themselves answering the questions.
Dorson believes his five years as chamber president—and 20 years with the organization—armed him with insights about employers he now can use to make ViewYou a success.
"When working at the chamber, I had a lot of exposure to small business, medium-sized business and large business. And [I] got a great frame of reference for the employers' mind-set and what employers are looking for."•
Please enable JavaScript to view this content.