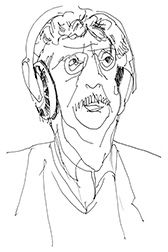 Kurt Vonnegut fans who suffered through the cinematic versions of his novels "Breakfast of Champions" and "Slapstick" know that Indy's favorite native literary son didn't have great artistic success when his books and short stories were adapted to other media. Sure, the film "Slaughterhouse-5" was fine—and a few other under-the-radar works were OK—but not many Vonnegut spin-offs added much value to his eclectic oeuvre.
So it would be understandable if you approach the new CD "Mother Night/Breakfast of Champions" (Keuka Classical) as I did, with a Vonnegut-ian degree of rueful wariness.
First, let me explain what exactly this disc isn't. It's not a book on tape. It's not a Vonnegut monologue recorded for posterity. And it's not a chance to hear Vonnegut sing (although he does warble a few notes).
Rather, it's an eccentric classical, jazz and blues composition from Howard Cass, played by the Manhattan Chamber Orchestra and accented with the voice of Vonnegut, who spent time in a recording studio reading excerpts from the pair of title books. To solidify the local connection, it's conducted by Butler University Professor of Music Richard Auldon Clark, who also plays viola.
Where Vonnegut was consistent to a fault, always writing in the same, unmistakable voice, the recording is a mixed bag. I was won over completely by the first track, in which a Samuel Barber-evoking intro leads comfortably into Vonnegut's elegant, melancholy, deeply moving evocation of loss and longing—opening with the plaintive statement, "About that purgatory of mine."
The rest of the first half of the recording is as strong, whether in the spirited, Vonnegut-free "Mother Night I" or "Freedom Again," in which Vonnegut's character defines what did and didn't cause him to freeze in place.
"What had made me move through so many dead and pointless years," wrote (and reads) Vonnegut, "was curiosity. Now even that had flickered out."
Already moving on the page, Vonnegut's words are given space by the orchestration, with sentences lingering evocatively as the instruments fill in, making it impossible to move to the next phrase without pondering the last. At these moments, the disc is at its meditative best.
The consistency of vision gives the "Mother Night" section a wholeness and focused vision that isn't present in the more ambitious "Breakfast of Champions." There's still terrific, strong work here—especially in Vonnegut's remembrance of "Armistice Day." But I could do without the ersatz '60s pop of "And So On," in which a cacophony of voices repeat Vonnegut's signature phrase. Or the equally-repetitious-for-no-apparent-or-interesting-reason intro and close to an otherwise sharp Vonnegut passage in "Goodbye Blue Monday." In most of their uses, additional voices become intrusions rather than additions.
I'm still uncertain about the opera intonations of the final piece, "Free," in which Vonnegut's iconic character Kilgore Trout is set free by the narrator. It's powerful in parts, but the polished additional voice doesn't have the personality that Vonnegut and the strings bring to the work.
Still, even with valleys to offset some of the peaks, the disc, like a good Vonnegut book, should hold up to repeated exposures. I'm going to count on it to carry me through many a commute.•
__________
This column appears weekly. Send information on upcoming arts and entertainment events to lharry@ibj.com.
Please enable JavaScript to view this content.