The Indiana State Fair has a reputation for gut-busting junk food. And I'm not here to disprove that notion or wet-blanket the fun by searching for healthful alternatives.
But the case I do want to make is that "new at the fair" doesn't automatically mean "newly deep fried." So I set out this year to find the best of the freshman foods, with the stipulation that they didn't emerge from a vat of hot oil.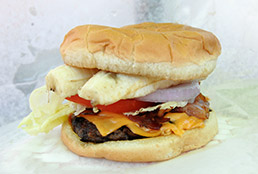 The Elvis Burger is a first-timer at this year's Indiana State Fair. (IBJ Photo/ Perry Reichanadter)
For instance, this year at fair mainstay Carousel Foods Inc., you can try a chicken sandwich served on a raspberry doughnut (which I didn't) or the Elvis Burger (which I did). In honor of the King, Carousel takes what is already a fine, midsize burger and gussies it up with sliced banana, peanut butter, bacon and—if your constitution is heartier than mine—melted cheese.
It's an $8 sandwich I thought I'd tolerate for about three bites. But, surprise, by showing some restraint with the peanut butter, Carousel has concocted a heart-stopper that's gimmicky enough to be fun while flavorful enough to actually be edible. Thinner sliced bananas would have made it even better … and more manageable.
Nearby, Barto's has added Indiana Beer Cheese ($1 a cup) to its lineup. I used mine to dress up a Steakburger slider (only $2 on Tuesdays), effectively turning it into an actual slider—one that nearly slipped out of the bun. It's a nice accent, though, and one that probably could be sold here by the jug.
Contrary to foot traffic, not all state fair food is sold outside. Amid the grape
press, gondola, wishing well and bocce court that diligent hunter/gatherers will find in the International Pavilion's salute to Italy, there's also an area devoted to offerings usually found on the Little Eataly food truck.
Here paninis are pressed—and good ones, too, including the Pig & Fig ($6), featuring prosciutto, fresh mozzarella, basil and, to make things interesting, fig butter. No, I'd never tried fig butter, either, but I can now comfortably say that it gets along fine with swine. A two-pack of house-made almond cookies ($3) makes a nice side. And to wash it down, Little Eataly offers rosemary-infused lemonade ($3) that's easy to gulp on a hot day but deserves to be savored while you bask in the Indiana version of the Tuscan sun.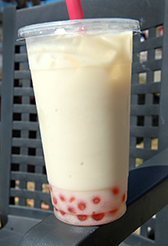 Bubble Tea (IBJ Photo/ Perry Reichanadter)
There are other previously un-fair-tested beverages as well. Morgan Family Enterprises, better known for impaling chicken on a stick, has bought into the Wild West Soda franchise, introducing its freshly made sodas ($5-$7) to fairgoers. Given the Western theme, it's fun to see sarsaparilla on the menu, but instead of that Old West cliché, I went with one of the recommended combos: black cherry and cream soda (aka the Calamity Jane). No complaint from me—well, one; it could have been colder. Expect to see the company's new stagecoach cart at other fairs near you.
Any drink that has to be explained is at a disadvantage in the land of lemon shake-ups, but bear with me for a second. At Carmel-based TeaBuds Brewing Company's Bubble Tea Emporium truck, your first move is to pick two flavors for the tea ($5). Then you pick a third for the tapioca-like balls that are poured in. A double-wide straw brings the liquid mix and the occasional ball into your mouth, where a gentle bite gives you a shot of extra flavor. Very refreshing—although many of our bubbles got trapped underneath the ice in the cup.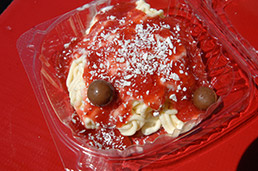 Spaghetti Ice Cream (IBJ Photo/ Perry Reichanadter)
Dessert time means time for Spaghetti Ice Cream ($5). As crafted by Monroe Concessions, the dish's base is gelato that looks like it was processed through a Play-Doh Fun Factory. The faux-noodles are then topped with pureed strawberries, shredded white chocolate, and a pair of chocolate meatballs. The result is an Indiana State Fair fair original—perfect for sharing—that should become a regular.
Note: If you are doing a fair food run, keep in mind that Tuesday is $2 day, with food specials throughout the park. I may be back. I'm sure there's something I missed.•
__________
Our month-long series of colorful restaurant reviews continues next week.
Please enable JavaScript to view this content.