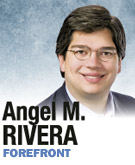 According to @IUBloomington, the Twitter account of my alma mater Indiana University, our alumni have won 50 gold medals throughout Olympic history. The Hoosier tradition of athletic achievement and support for amateur sports is second to none. As the city seeks a second Super Bowl bid, we should continue to dream big and look for other sporting events that can attract talent and tourism to Indiana.
It has been a hot summer. Farmers are suffering through an awful drought and the rate of unemployment remains stubbornly high, especially in my age group. The under-35 crowd faces the worst job market for our demographic since the U.S. Department of Labor started keeping track after World War II.
You could make the argument that this is not a time for fun and games. But fun and games is a great American industry, an export that attracts investment and generates wealth.
Crowds, celebrities, increased traffic and security matters were handled so well in February that it makes one wonder if Indy could be an Olympic host city. A Google search of the recent host cities shows metropolitan areas larger than Indianapolis'. We would need major investments in infrastructure.
As fans of economic activity, concerts and a cold beer on the street, my father and I enjoyed walking Georgia Street and Super Bowl Village. The Pan Am Games proved that Indy can handle an event with a million spectators. The Olympics in Indy would mean another huge effort on the part of sponsors supporting the construction of stadium facilities and an Olympic village to house the athletes.
Our need for more large employers in Indianapolis is underscored when trying to imagine the sponsors needed for an event of this magnitude. These events would not be feasible without corporate support. Will sponsors come aboard for events other than the Super Bowl?
To host the Olympics, Indy would need a better public transit system and upgraded sporting facilities. The security and construction costs would be immense and the spotlight on Indianapolis might bring the international attention that could turn the city into a much bigger center for commerce. The natatorium has a great pool, but its locker rooms and ancillary facilities are overdue for upgrades.
Lucas Oil Stadium, Bankers Life Fieldhouse and Victory Field could be modified for Olympic use. Facilities at IU and Purdue University could welcome events and fans, too. Indianapolis Motor Speedway could host a world-class Olympic kickoff with a quarter million fans on site and the mother of all Olympic tailgating.
The Olympics in Indy are likely not achievable soon. The thousands of hotel rooms needed would fail to profit after the games and the new sporting facilities would not get enough use to pay for the debts to finance them. Besides, the International Olympic Committee does not like the difficulties foreigners face when entering the United States (ask Chicago's Olympic bid committee).
Many other events can be hosted here. The Super Bowl, the Big Ten Championship and the Final Four attract tourist dollars and elevate our standing among the great U.S. cities. Let us reconsider the mayor's 2008 suggestion for a North American Cricket Championship.
How about a national political convention? Should we create or steal a college football bowl game? If Detroit and Canada can have them, why not Indy? Should we have college national championships in other sports here? Indianapolis Motor Speedway is doing its part with events like MotoGP. What about a huge bicycle race at IMS?
We have earned a good reputation, and our convention business is reflecting those positive trends. Indianapolis needs to continue to innovate, to think outside the box and succeed as a large city. It is a tall order that requires bold ideas and it must be done while maintaining our characteristic Midwestern feel.•
• Rivera is a sales consultant and former at-large city-county councilor. Send comments on this column to ibjedit@ibj.com.
Please enable JavaScript to view this content.