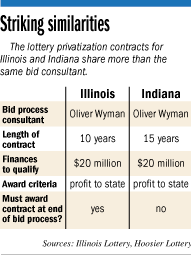 The Illinois Lottery is not a model Indiana should follow in seeking a private manager to boost revenue, according to Illinois' own lottery chief.
"It's as if they didn't learn anything," Illinois Lottery Superintendent Michael Jones said after reviewing the request for bids that Hoosier Lottery released in July.
Illinois in 2010 became the first state to privatize its lottery, and the process was fraught with controversy.
Less than a year after winning a 10-year contract, Northstar Lottery Group sought a change in terms that could mean the state will owe it millions, rather than the company having to pay fines for failing to bring in the profit promised in its bid. Illinois Lottery and Northstar are in mediation over the issue.
Two losing bidders, Intralot and England-based Camelot Group, protested their elimination in 2010. Then Intralot sued the state Department of Revenue's former general counsel over the background check he conducted. That federal suit is ongoing.
Hoosier Lottery officials say they've taken steps to avoid such problems, but several key elements of the process mirror the one in Illinois.

Jones
For starters, Hoosier Lottery hired the same consulting firm, New York-based Oliver Wyman, that advised Illinois. Jodie Winnett, the former Illinois Department of Revenue official who oversaw the lottery privatization, is working for Oliver Wyman in Indiana. (She declined to comment through Hoosier Lottery spokesman Al Larsen.)
The Illinois auditor general's review of the bidding process faulted state officials for failing to properly administer their contract with Oliver Wyman. The firm and its subcontractors earned $4.9 million, with some work billed at $648.75 an hour.
The auditor's 2011 report also pointed out a potential conflict of interest and said bid evaluators seemed rushed.
Hoosier Lottery's Larsen said in an e-mailed statement that Oliver Wyman provides "excellent insight" into the Illinois experience.
"We've been very diligent in our study of that environment and have drafted a contract that is designed to maximize focus on the objective and minimize time spent administering contractual conflicts."
For example, Larsen said, Hoosier Lottery devised a "simpler compensation system that better aligns the objectives of both parties." That compensation system has not been disclosed.
The lottery also set up a grievance procedure that should "decrease the occurrences of inconsequential disputes," he said.
Hoosier Lottery Executive Director Karl Browning declined to be interviewed.
The basic structure of Hoosier Lottery's contract, which covers the gamut of marketing and operational duties, would mirror the one used by Illinois. The award would be based mainly on how much profit a company promises to the state, subject to fines for failing to deliver. Likewise, the winning firm has the opportunity to earn significant profit by exceeding its target.
To qualify, bidders need access to $20 million in working capital.
Jones, a lottery consultant who led a consortium that also bid for the Illinois contract, contends that those terms favor the industry's largest vendors.
"It's designed to limit competition," he said.
His group, Chicago-based Your Lottery LLC, dropped out of the Illinois process. Gov. Pat Quinn appointed Jones, who had run the state's lottery in the 1980s, as superintendent in October, after the lottery separated from the Illinois Department of Revenue.
Jones questions the need to enter a long-term contract, with both sides subject to fines or reimbursing expenses, when the lottery could simply hire a manager and fire it if it doesn't meet projections.
The $20 million is another unnecessarily high hurdle, he said. Winning a major state contract would give any firm access to needed working capital, he added.
"The fact they're requiring it before the fact is non-competitive," he said.
Hoosier Lottery officials say the $20 million bid requirement is meant to protect the state. The length of the contract is based on feedback from prospective bidders.
"A longer duration serves as a prerequisite for some bidders to even consider preparing a proposal," Larsen said in an e-mail.
Hoosier Lottery recently modified the request for bids so the contract will last 15 years instead of 10.
Proposals are due Aug. 31. The commission expects to choose a winner by Sept. 26 and sign a contract by Nov. 1.
One factor that's different in Indiana, Larsen noted, is that the lottery is not required to outsource. The request for bids, which is called a "request for information," says the commission might decline all the offers.
In that case, Oliver Wyman won't make as much money. Hoosier Lottery would not release the terms of its contract with the firm, but Larsen said it's "largely" contingency-based.
Indiana's $856 million lottery drew letters of interest this spring from 10 firms, whose names officials have declined to disclose. The response level prompted the agency to go ahead with a request for formal bids.
Illinois had a similar experience, but only three entities persisted in the formal bidding. The state's two large vendors, Gtech, which provides electronic terminals to retailers, and Scientific Games, which makes scratch-off tickets, partnered with an advertising firm to form Northstar. The consortium competed against Greece-based Intralot and Camelot Group, which runs the United Kingdom's national lottery.
Hoosier Lottery is looking for help from the private sector at a time its revenue appears to be bouncing back from recession levels. Revenue rose 8 percent, to $856 million, for the fiscal year ended June 30. Operating profits, which flow to the Build Indiana fund, were $210 million, on par with the 2008 fiscal year.
Powerball and Mega Millions fueled the lottery's profit beyond the $201 million that was budgeted for this year, figures released by the lottery show.
Indiana lottery officials want to have one of the fastest-growing lotteries in the country. They're not alone in turning to the private sector. Pennsylvania, which saw an enviable $3.2 billion in lottery sales in the 2011 fiscal year, is contemplating a private-management agreement similar to the one in Illinois, Pennsylvania media outlets reported.
Policymakers tend to follow the pack when it comes to crafting such deals, said Ellen Dennin, a Pennsylvania State University law professor and privatization expert.
"They do get into fads about how you think about things," she said.
She questioned whether Indiana needs to enter a long-term contract, simply to find a manager who can grow the lottery.
"Why are you going through this complicated and risky process?" she asked.•
Please enable JavaScript to view this content.