On a blistering summer day, Forrest Lucas, founder of Lucas Oil Products, surveys one of his latest and greatest acquisitions, the former estate of Conseco co-founder Stephen Hilbert. Situated on 33.6 wooded Hamilton County acres, it includes a 25,000-square-foot mansion, another 30,000 square feet of outbuildings, and formal grounds festooned with fountains, plantings, a creek (Williams Creek, to be exact) and a pool.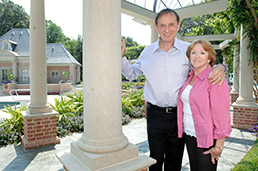 Forrest and Charlotte Lucas (IBJ Photo/ Perry Reichanadter)
Right now, however, he's not looking at the big picture. Instead, he's studying a patch of grass encroaching on a flower-filled border next to a concrete path. Lucas doesn't like it.
"This has to be addressed," he said.
He's been addressing a boatload of such issues, great and small, since acquiring the place in 2010. It's hard to think of this iconic house, completed in 1993, as a fixer-upper, but that's exactly the situation Lucas and his wife, Charlotte, faced when they purchased it for the "bargain" price of $3 million—marked down from $20 million. (Click and drag below to check out a 360-degree view of the main residence's back yard.)
While the interior was in good shape, many of its most distinctive features, including a gigantic chandelier that once loomed over the main entryway, had been stripped and sold. As for the grounds, the irrigation system was shot, weeds were taking over, and the outdoor paths and patios had crumbled from harsh weather and neglect.
"I knew it was going to take a lot of work," Lucas said. "As far as maintenance is concerned, this is like having another factory. Keeping the house and grounds immaculate is quite a job." The couple oversaw much of that work personally. Very personally. Lucas even supervised the laying of fresh sod. And he can explain in detail where pretty much every new interior furnishing came from.
"You have to be that nitpicky," he said. "I'll come out here in the evening and pull weeds. It's great exercise and I enjoy doing it. And I see things the other guys don't see."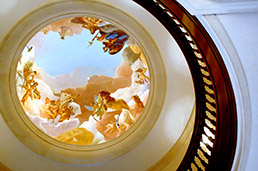 The Lucas' preserved a painting above the main entrance in which Steve Hilbert, who built the home in 1993, appears with a shield and spear. (IBJ Photo/ Perry Reichanadter)
Today, the estate still bustles with work crews and earth-moving equipment. The workers are embellishing the grounds and updating the outbuildings, converting the sprawling estate from an executive sanctum into a meeting place and business tool.
The interior of the mansion isn't all that different from the Hilbert era. The three-story, mahogany-paneled library is still there, along with the first-floor master suite (complete with indoor lap pool) and walk-in his-and-hers closets. But the lap pool has been drained, and the closets are only a quarter full. If that. (Check out a 360-degree view of the master bedroom below.)

"If we brought all of our clothes from everywhere we have clothes, we still couldn't fill them," Charlotte said.
Indeed, she reckons that the combined square footage of the couple's four other homes doesn't equal the footprint of the mansion. The three-story (plus basement) spread is so big that it actually includes an elevator, which Lucas eschews in favor of the stairs.
"It's good exercise for me," he said. "It made a difference in my legs."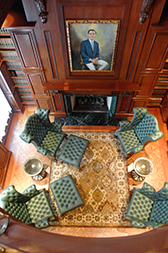 A painting of Jim Nabors is one of several Dimitri Vail portraits hanging in the house. (IBJ Photo/ Perry Reichanadter)
Not that there haven't been changes. The library, for instance, sports a 1967 portrait of Jim Nabors, from a collection of works by celebrity portraitist Dimitri Vail that Lucas acquired a few years back. Vail's paintings can be found throughout the house, including in the basement Florida room, and in the oval-shaped TV room in the master suite.
Most of the home is paneled and trimmed in mahogany, with the kitchen done in pecan. The main entry soars three stories to a dome that's painted with vaguely mythological figures—one of whom happens to be Hilbert, dressed in armor and toting a shield and spear. For some, taking a paint roller to the former owner's visage would be job one. But Lucas likes the piece so much that he's decided not to replace the entry's missing enormous chandelier because it would obscure the painting. He's not concerned about the former owner staring down at him ad infinitum.
The home's lower level includes some of its most interesting and idiosyncratic touches, including a pool room with an elaborate floor design composed of 26 types of wood, a gym, game room, party room, and a "beauty salon" complete with a barber chair where Charlotte cuts Lucas' hair.
But the most interesting artifact is Hilbert's windowless, largely empty office. Lucas shows off several hidden compartments behind the paneling that are accessible only via a smart knock on just the right spot. The biggest is the size of an old-fashioned phone booth and could accommodate a human being.
It's a holdover from the previous owner's more security-obsessed reign—as is the guardhouse near the front gate. It formerly housed a security team and an X-ray machine to scan incoming mail. Now it serves as an apartment for guests.
"We don't need a guardhouse," Lucas said.
Given the estate's new role, it might be better served by a visitor center. The Lucases' remodeling efforts are meant to help the grounds accommodate large private functions. Really large private functions. For instance, the installation of a 160-car parking lot, and embellishments to the sports barn that include everything from a huge new air-conditioning system to the addition of two 12-feet-by-18-feet television screens overlooking the basketball court. Needless to say, that court doesn't see much hoops action these days.
"We had approximately 1,500 people here for our Super Bowl party," Lucas said. "Besides about 200 people who were support cast. There were a lot of people here that night, but everybody was inside."
The main house is also no stranger to elite guests. George W. Bush and Donald Trump have availed themselves of the home's four third-floor guest suites, as did (during the Hilbert era) Bill Clinton.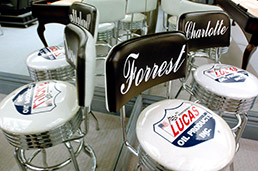 A game room in the lower level sports a pool table, video games and chairs with the names of the new owners and their company. (IBJ Photo/ Perry Reichanadter)
Lucas helped select the home's new furnishings, with an eye toward buying as many American-made products as possible. The idea was to make the interior comfortable, but not overwhelm the architectural design. Truly personal touches are somewhat rare—a necessity, given the number of visitors bustling through the place.
"All of our other houses are full of doodads, but you have to be careful what you put in here," Lucas said. "You don't want something that's easy to stick in somebody's pocket, or something that's too breakable."
Not that he's complaining. Showing off the house to strangers was half the reason for acquiring it.
"This is, to me, like a museum," Lucas said. "The grounds are a museum piece. It's something that I enjoy sharing with other people. It's eye candy."•
Please enable JavaScript to view this content.