Indiana University is considering leasing its parking assets in Bloomington and Indianapolis, similar to a deal that generated $483 million for The Ohio State University.
IU is about two weeks away from issuing a request for proposals on a lease that would last 30 to 50 years, Chief Financial Officer Neil Theobald said.

Theobald
"We're constantly monitoring different options," Theobald said. "I'm very close friends with the CFO at Ohio State. They're freeing resources they can invest in their academic mission."
Many cities, including Indianapolis, have used long-term leases to cash in on parking assets, but Ohio State this year became the first in higher education.
The university turned over about 36,000 parking spaces and $30 million in annual revenue to two firms, Australia-based QIC Global Infrastructure and Connecticut-based LAZ Parking, for a 50-year term and the large up-front payment.
Students protested the deal because they'll be subject to annual rate hikes, but university officials defended it because it means they can hire faculty and expand research in a time of state budget cuts.
IU's parking operations might be worth less than Ohio State's because there aren't as many spaces in a downtown setting.
IUPUI has nearly 25,000 spaces that generated $17.1 million in fees and fines last fiscal year, which ended June 30.
The average value of a parking space on the downtown Indianapolis campus is more than twice that of Bloomington, which has 21,000 spaces and generated about $6 million last year.
That's because rates are higher, reflecting higher real estate costs in Indianapolis, and there are more visitors creating frequent turnover, IU spokesman Mark Land said.
IU doesn't have any specific plans for the money it receives, but Theobald said it could go to student aid, hiring more professors or carrying out campus master plans.
He said parking is "quite an efficient operation right now," with the revenue covering all maintenance and debt-service costs.
Theobald said he hopes to head off controversy by involving staff members, faculty and students. Representatives from both campuses were appointed to a committee that's been meeting for about six weeks, he said.
The names of those committee members weren't available, and it's not clear how much information has filtered down to the campuses, where classes started Aug. 20.
Lee Stone, president of the IUPUI staff council, said he hadn't heard anything about university plans to lease its parking facilities.
Faculty council member Joan Kowolik, a professor in the IU School of Dentistry, said she knew the topic had come up and expects the faculty will seek more information when they meet next month.
IUPUI's long-term plans call for more parking garages. If privatization can help finance that, Kowolik thinks it's worth considering.
"It's impossible at this point to find a parking space, unless you're in here before eight in the morning," she said.
The situation can lead to poor service for the public, she said. One of her students was an hour late to see a patient with a 9 a.m. appointment because she couldn't find parking, Kowolik said.
The university's parking plans could be lucrative to a for-profit operator. As in most long-term leases, the university would have to reimburse the contractor for lost revenue when parking spaces are taken out of service, Theobald said.
That's inevitable under IUPUI's master plan, which anticipates 4,621 spaces would be displaced by new and expanded buildings.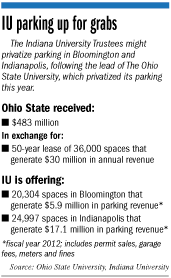 The contractor would have another money-making opportunity when the university replaces the lost parking and creates even more spaces than exist now. IU's agreement would give the for-profit operator the right of first refusal on building new parking facilities, Theobald said.
IUPUI's master plan suggests adding seven more garages, plus surface parking for a net gain of 6,374 spaces.
A long-term lease could be worth hundreds of millions up front, but Theobald said he would recommend setting aside some portion of that money in an endowment to cover future lost-revenue payments to the concessionaire.
Most privatization contracts include "adverse action" clauses, where the government pays the contractor for policy changes that decrease revenue, said Ellen Dannin, a Penn State law professor who studies infrastructure privatization.
Dannin believes the adverse-action provisions are part of what makes the deals so appealing to the private sector.
Private operators also gain a tax advantage by assuming responsibility for assets over a term that's longer than the useful life, Dannin said. That's why so many contracts are written for 50 years or more, she said. Once a firm has exhausted its tax advantage, after 10 to 15 years, it can transfer the lease to another company, she said.
Dannin is a critic of privatization because she says the contracts tie the hands of future generations. A city that wanted to shift to public transportation, for example, would have to pay a parking contractor for that policy change.
Under its master plan, IUPUI would become a less car-centric place. Leasing the parking facilities would not deter the university from carrying out those plans, Theobald said. Rather, some of the money could be spent making the needed changes, he said.
IUPUI's master plan calls for converting West Michigan and West New York streets into two-way thoroughfares with center medians; transforming Vermont Street into a pedestrian-oriented urban setting; adding retail at the street level of parking garages and relocating parking away from the center of campus.
The decision on parking privatization rests with Indiana University's board of trustees, and at least one of the nine members favors the idea. William H. Strong, a Purdue University alum and vice chairman at Morgan Stanley in Chicago, asked IU administrators to look into privatization because of Ohio State's example, Land said.
Theobald said he was already working on it when Strong made the suggestion at a trustees meeting this year. Although Morgan Stanley would be one of IU's four underwriters on the deal, Theobald said Strong has not been "in any way involved in the process."•
Please enable JavaScript to view this content.