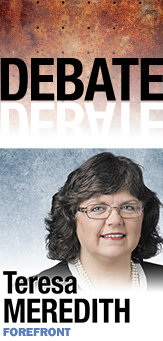 Question: When Mitch Daniels becomes president of Purdue University in January, should he make changes to the college of education?
Answer: Initially, I think Gov. Daniels should find a way to celebrate the great projects happening in teacher education.
I know that educators and schools of education are working hard to support student teaching experiences and looking at the impact of test scores that can help or hurt a teacher's evaluation and compensation.
Purdue saw an opportunity to partner with neighboring schools to forge a new path for student teachers. The program promises to improve pre-kindergarten to 12th grade student learning. It will pilot a co-teaching model created through discussion and collaboration with local schools. The model allows for a high level of control by the classroom teacher and allows for planning and practice on the part of the pre-service educator. The plan includes goals to increase the amount of individual attention that students receive.
I think this will be a successful venture because the Purdue faculty understands that the model may need to be adjusted as the education landscape changes, and they promise to strike up those conversations with area administrators and teachers if needed.
I also discovered that Purdue's Woodrow Wilson scholars are a strong part of education initiatives in math, science and technology. Purdue chose to focus on preparing these scholars for a commitment to teach in rural settings. It's a unique concept—specialty training for a specific demographic—something I had not heard much about until it was a conversation among colleagues who teach in an urban setting.
Purdue's program examines the notion that we have school settings by grade, so shouldn't there be some kind of specialty training by community—for example urban, suburban or rural? As a teacher in a rural setting, I found this focus exciting.
Purdue also leads the way with its international programs. I was fascinated by its study abroad programs that allow students to experience diverse classrooms in countries such as India, Honduras and Germany. Students also can speed their progress to graduation by taking summer courses.
I was intrigued by the various grants Purdue faculty have secured to develop innovative models for several areas of P-12 education, including enhancing math problem-solving skills in students with disabilities, developing academic talent in native American students, and building strong math and science skills in elementary students by incorporating engineering concepts into the curriculum.
Purdue is also committed to teacher quality with a commitment demonstrated in its First Year Pledge that says, "We are confident that our graduates are prepared to be successful teachers. … Purdue faculty and staff will provide individualized support to any first-year teacher in Indiana who is not performing to an appropriate standard." It speaks well that in the last five years no school corporation has invoked the pledge. If I were an administrator, that guarantee would certainly make me give serious consideration to hiring a Purdue graduate.
There are many great things to celebrate in Purdue's College of Education. My advice to Daniels as he steps into the presidency would be to examine the excellent programs before making any changes and to support the efforts to be collaborative, innovative and nimble in an increasingly challenging educational landscape.
Indiana students are being inspired to question, experience, excel and dream in many ways—some measurable and some not. Isn't that something we should celebrate and support?•
• Meredith is vice-president of the Indiana State Teachers Association and has taught for more than 18 years in Indiana schools. Send comments on this column to ibjedit@ibj.com.
Please enable JavaScript to view this content.