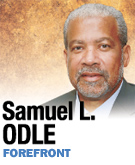 The announcement of a potential Super Bowl bid for 2018 is creating a buzz, reminding us that Indianapolis and central Indiana are now on the national, even international, stage in many ways.
As we rally to tidy Indianapolis and build further infrastructure that would support another showstopper, we must take the time to get our own proverbial house in order—which involves addressing the amount of abandoned and substandard commercial and housing property in our city.
There are approximately 10,000 abandoned properties in Marion County, and more than 90 percent of those structures are residential. It's an unnecessary situation that our great city can no longer ignore.
Abandoned housing is a tell-tale sign of a neighborhood in decline and brings about a ripple effect. Not only does the abandoned housing become an eyesore, but it also can inadvertently welcome crime and cause local businesses to fold. And we know what happens in urban areas can easily lead to suburban creep.
In the 1970s, 14 community development corporations were developed with the intention of working with communities to facilitate neighborhood development. The genesis of each CDC is specific to the neighborhood in which it operates.
Ironically, as the importance and need of their work has increased, the CDCs have found themselves struggling to stay ahead of decline in our urban core.
They can't tackle this problem on their own, nor should they. Funding for CDCs has declined over the past 10 years. At the same time, challenges for urban neighborhoods have increased.
Abandonment of homes can be attributed to many factors. The situation might involve a homebuyer that finds it easier to go delinquent on their mortgage and walk away. Many absentee landlords live out in affluent suburbs or have moved out of state altogether, and can no longer be bothered to maintain the property. Real-estate hustlers and land-banking are more prominent than ever before. And even when the bank takes over ownership of a property, the bank often finds it easier to let the properties sit on the books rather than invest time or money in a solution.
So what can we do to start addressing the problem and make a difference by 2018?
1. Financial institutions should work directly with the CDCs to maintain and market vacant properties. Working with CDCs could also create a micro-economy for people in the neighborhoods to focus on home repairs, painting and carpentry. The Centers for Working Families sponsored by Local Initiative Support Corp. and Central Indiana Community Foundation would be a good source for labor and would help keep these properties visually presentable and safe.
2. Government must take a more active role to tighten and enforce standards for landlords to maintain property. Whether these landlords live locally or out of state, the city should step up enforcement of local codes and laws. Some will argue that this is a very difficult measure—but that's not to mean we shouldn't take it seriously and strive for enforcement.
3. Increased funding for programs that prepare people for home ownership should be sought—through the Indianapolis Neighborhood Housing Partnership or the home buyer clubs operated by the CDCs.
We should glean best practices from other cities. The Indianapolis Avondale Meadows project is a great example of the business community, CDCs, government and a local neighborhood uniting to tackle abandoned housing and working together to rebuild and revitalize an urban infrastructure. It's still in its early days but by all accounts it looks as if this project is coming together to make a notable difference.
Ten-thousand abandoned properties is 10,000 too many. With government, business and community collaboration and commitment, we can make a beautiful winner by 2018.•
• Odle is the former chief operating officer of Indiana University Health and CEO of Methodist and University hospitals. Send comments to ibjedit@ibj.com.
 
Please enable JavaScript to view this content.