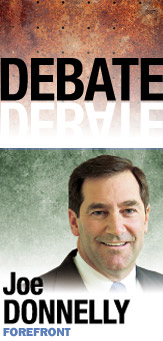 QUESTION: What is your view of the role of compromise in making legislation?
ANSWER: When my kids were growing up, I coached their baseball and basketball teams. Like all coaches, I preached teamwork as one of the key fundamentals that would make us successful. We weren't going to win games by focusing on our individual interests and running up stats; rather, by working together and playing to each other's strengths, our team would have success.
Just like teamwork wins in sports, teamwork wins for Indiana's economy. I will work with anyone of any party who wants to help strengthen Indiana's businesses and middle-class families, and I have a record of working with Republicans and Democrats to get things done.
I supported a bipartisan effort to extend for an additional year the Bush tax rates because we still have work to do to bring our economy back and need to give families and businesses certainty in the tax code. I'm proud to have worked with Republicans like Fred Upton on veterans' benefits issues in northern Indiana, with Marlin Stutzman protecting the jobs of the brave men and women serving in the 122nd Fighter Wing in Fort Wayne, and with other lawmakers like Sen. Lugar supporting the rescue of the American auto industry.
We each stand on fundamental principles like honoring the promises of Medicare and Social Security to our seniors, providing a better future for our children, and honoring our veterans.
Partisan gain cannot be one of those principles, or we all suffer. Unfortunately, partisan gain is at the center of my opponent's repeated refusals to compromise.
Richard Mourdock told The Indianapolis Star that if he were in the minority in the Senate, he wouldn't care what committees he would serve on, as he would dedicate his time to campaigning around the country until his party was in the majority. The leaders of our state and country must be willing to work with others in order to bring our economy back, not simply commit themselves to partisanship. Hoosier middle-class families deserve a U.S. senator who works for them, not a political party.
My opponent's "my way or the highway" approach to politics is backward. Mourdock thinks bipartisanship consists of Democrats coming to the Republican point of view and that the problem with Washington is that there is too much bipartisanship.
That might be good politics, but it is terrible for the country. I would rather put partisan politics aside and get things done.
That is why, when I've worked on all the issues most pressing to our local communities, it has never been a concern whether one is a Democrat, Republican or independent. All I care about is making sure our communities bounce back from a too-high unemployment rate, or get the veterans' health care we need or find a grant to fund an economic development project.
What our state and country needs is fewer partisan warriors and more common-sense, results-oriented leaders. We have a proud history of that here in Indiana, with senators Lugar and Evan Bayh providing strong, pragmatic leadership for our state and our nation. As your U.S. senator, I'll embrace that legacy.
The principles that we should run our country by are no different than the simple lessons I taught as a Little League coach. Talk to your teammates. Keep your eye on the ball. Play together.
Major issues are facing our county. If we work together, we can solve them.•
• Donnelly, a Democrat from Granger, represents Indiana's Second Congressional District and is seeking election to the U.S. Senate. Send comments on this column to ibjedit@ibj.com.
Please enable JavaScript to view this content.