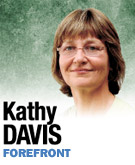 It's getting close to election time. I find many voters are feeling a depressed malaise. When we feel that way, it's hard to imagine regaining the energetic confidence we could have, and that we need to succeed.
John Gregg and Vi Simpson are making a strong case to give us energy and confidence. Indiana has everything to gain from their leadership. And we have much to lose if we go the other way.
Voters need not worry; Democrats are focused on jobs, lean government and balanced budgets. We believe in the independence of the individual as well as the power of the community. Indiana Democrats have a solid record on conservative fiscal management and economic growth.
Coming out of the recession, Gov. Daniels has built $2 billion in cash balances. But the income of Hoosiers has grown 4 percent over the last 10 years compared to 14 percent nationally. Indiana has the highest poverty rate in the Midwest. Indiana government has lots of cash, but people are poorer.
Last time the state had $2 billion, Democrats were in charge.
Early and often, Daniels has criticized the leadership of Democrats. But the Democratic record is not what he says.
When Daniels took office, Indiana was recovering from a recession. Cash reserves were down, but revenues were growing at more than 7 percent. Govs. O'Bannon and Kernan used the 2001-2002 recession to restructure, reduce taxes on businesses and cut property taxes. State revenues grew at greater than 7 percent each year during Daniels' first term in office. That is what the Democrats left him.
In the Bayh-O'Bannon-Kernan years Indiana restructured Medicaid to save money, instituted accountability for schools with ISTEP, reduced the number of employees in state government and maintained downward pressure on costs. In 1996, the last time Indiana had $2 billion in cash balances, Bayh created funds to meet pension obligations, invested in a statewide emergency communication system and made the biggest tax cut in Indiana history with the reduction in auto excise tax.
Contributing to Indiana's $2 billion balances this year was $4 billion in federal stimulus money received between 2009 and 2011. And the income tax paid by auto industry workers who kept their jobs and corporations that stayed in business due to federal loans to the auto industry. The Republican legacy in Indiana would look different without Democratic action.
Democratic governors reformed welfare in Indiana before it was done nationally, and closed institutions to reduce cost and improve lives of people receiving state services. Democrats controlled costs and looked after vulnerable citizens. Democratic governors did not drop reimbursement rates for children in out-of-home placements, or for people with disabilities, below providers' variable costs.
Democrats did not outsource systems meant to connect vulnerable people with health and employment services and leave them waiting on the phone without answer. Republicans did. Democrats reformed systems without throwing people into crisis—crises that create pain, long and expensive recovery, and lawsuits.
Democrats don't want big government; we want government to be good at what it does.
And Democrats don't want abortion. We want prevention.
Not Congressman Pence, the national champion for defunding Planned Parenthood. Defunding Planned Parenthood is a ruse. It doesn't reduce abortions. No government money is spent on abortions. Taking government funding from Planned Parenthood reduces health care for young and poor women. In some geographic areas it eliminates it. It reduces prevention and increases crises.
I am voting Democratic for government by the people and for the people. All people. We want to win in the global economy and win on poverty. We will run a state that's helpful to corporations and kind to people.
The two are not mutually exclusive; they are the way back to energetic confidence.•
• Davis is a former Indiana lieutenant governor who owns and operates the Indianapolis technology firm Davis Design Group LLC. Send comments on this column to ibjedit@ibj.com.
Please enable JavaScript to view this content.