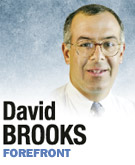 A few years ago, President Barack Obama established a debt commission that was led by Alan Simpson and Erskine Bowles and had a group of eminences, including Rep. Paul Ryan.
When that commission came up with its proposal, some conservative Republicans, like Tom Coburn and Judd Gregg, voted yes, but Ryan voted no. If Ryan and the other House Republicans had voted for the Simpson-Bowles proposal, it would have gone to Congress for up-or-down votes, regardless of how Obama reacted. We would have had national action on debt reduction.
The Simpson-Bowles plan would have simplified the tax code and lowered rates. It would have capped the size of government.
Ryan argued that the single biggest contributing factor to public debt is the unsustainable growth of Medicare. Yet the Simpson-Bowles plan did nothing to restructure Medicare, and it sidestepped health care issues generally.
The problem was there were almost no Democrats who endorsed Ryan's Medicare reform ideas. If Ryan was going to pinion debt reduction to Medicare reform, that meant there would be no debt reduction.
But Ryan had another way forward, noting: We're going to have an election in 2012; if we Republicans win, we'll be able to reform Medicare our way and reduce the debt our way.
In other words, Ryan was willing to sacrifice the good for the sake of the ultimate.
In order to get this ultimate solution, though, Ryan was betting that Republicans would beat Obama and win such overwhelming congressional majorities that they would be able to push through measures Democrats hate. And he was betting that a group of Republican politicians would unilaterally slash one of the country's most popular programs and that they would be able to sustain these cuts through the ensuing elections, in the face of ferocious and highly popular Democratic opposition.
To put it another way, Ryan was giving up significant debt progress for a political fantasy.
Ryan's fantasy happens to be the No. 1 political fantasy in America today, that the other party will not exist. There hasn't been a speech this year that grapples with the real world—that we live in a highly polarized, evenly divided nation and the next president is going to have to try to pass laws in that context.
It's obvious why candidates talk about the glorious programs they'll create if elected. It fires up crowds and defines values. But in the real world, there are almost never ultimate victories, and it is almost never the case (even if you control the White House and Congress) that you get to do what you want.
The real world looks a lot like the Simpson-Bowles commission, where you get a diverse group of people who try to make progress in the areas where that is possible and try to sidestep the areas where it is not.
The real world looks like the budget talks between Obama and John Boehner last summer, in which two party leaders get together and work out a budget deal between themselves (which is easy) and also try to write a deal they can sell to their party bases (which is hard).
In the real world, leaders have a campaign consciousness in which they argue for the policies they think are best for the country. But then they have a governing consciousness, a mindset they put on between elections. It says: OK, how can we navigate our divides to come up with something suboptimal but productive?
Paul Ryan has a great campaign consciousness, and, when it comes to things like Medicare reform, I agree with him. But when he voted no on the Simpson-Bowles plan he missed the chance to show that he also has a governing consciousness.•
• Brooks is a New York Times columnist. Send comments on this column to ibjedit@ibj.com.
Please enable JavaScript to view this content.