Until now, I've avoided the whole food truck phenomenon in Indy.
Why? Well, as an East Coast transplant, food trucks didn't seem like anything to get excited about. On campus at Temple University and on the streets of Philadelphia, they were ubiquitous. One near my office in Philly was even willing to put barbecue sauce on my chicken cheesesteak.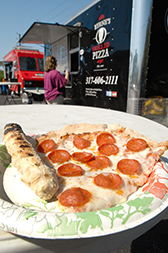 Food truck dining—including Byrne's Grilled Pizza—is all the rage in Indy. (IBJ Photo/ Perry Reichanadter)
In Philly, these trucks were just a cheaper option for grab-and-go food, usually with a slight downgrade in quality. When they began showing up in Indy, I expected them to serve the same purpose, with the same side effect.
One look, though, and I was hit with sticker shock, finding prices similar to their brick-and-mortar brethren. Why bother standing in the long lines if there wasn't a price advantage?
There are answers to that, of course. One is variety. For those downtowners who don't have the fortitude or the time to take a lunch stroll, the trucks are a way to mix things up (although the lines at the trucks near the government center can take as much time as a trek to just about anywhere downtown).
Another reason may be quality—at least, that's what I'm setting out to find this month as I dine my way through as many mobile eateries as I can in four columns.
Let's start simply, with a pair of pizza purveyors. The long wait, $3 slab, sub-
mall-pizza quality, and solo operator who handled money and food without gloves didn't win me over to The NY Slice. In the real New York, it's easy to find such a standard dough/tomato sauce/cheese wedge for only $1. The Indy version had run out of pepperoni and sausage when I made it to the front of the line—another truck downside, but at least the sodas ($1) were cheaper than at some other trucks.
Better was Byrne's Grilled Pizza, which separated cashier and cook, offered jovial service, and got more creative with its toppings. The Farmer's ($5) featured pesto, spinach, tomatoes, bell peppers and ricotta—evidently this farmer is from Italy. The Mediterranean garden ingredients were a refreshing diversion from pizza standards; however, the ricotta clumped, creating an inconsistent base. A good-enough breadstick sided it (with a soda, that's a $1.50 upgrade). Not-too-salty pepperoni discs nicely accentuated the not-so-basic cheese ($4), which mixes mozzarella and asiago on a hand-rolled, irregularly shaped crust that's artfully charred for Byrne's signature grilled flavor.
Now off to find a few more—this time, some of the more ambitious and creative mobile kitchens. FYI: To track down where your favorite food truck is parked for the day, tweet: Indyfoodtruck.•
—Lou Harry
__________
First in a month-long series of food-truck dining columns.
Please enable JavaScript to view this content.