The torrent of TV commercials by competitors sporting geckos, mayhem and an insurance "cashier" who stalks viewers like a psychotic ex-girlfriend forced Indiana Farm Bureau Insurance to step boldly to the camera.
So far, its "Knock on Wood" TV shtick rolled out early last year is said to have boosted its brand awareness in urban markets 12 percent, as measured by social media chatter.
Facebook-follows alone zoomed 178 percent, according to Farm Bureau, which is Indiana's second-largest auto and homeowner's insurer, behind State Farm.
Commercial –"Are you covered if you accidentally break a friend's tooth?" (Photo courtesy of Young & Laramore)
More important, direct written premiums last year rose 3.4 percent, to $518.5 million. It's too early to say exactly how much the ad campaign helped drive premium growth compared with, say, rate increases that can have the same effect.
"That could take some time to track," said Melissa Mann, manager of advertising and brand strategy for Farm Bureau Insurance. "I know that our agents are seeing more customers."
One thing that's certain is that even well-established, regional insurers like Farm Bureau are going to have to beef up their brands amid an onslaught of loud, impossible-to-ignore advertising by big insurers.
Insurers spend more than $5 billion a year on personal auto insurance adverting and marketing. State Farm, Allstate, Geico and Progressive spent $2.6 billion of that $5 billion, according to J.D. Power & Associates' 2011 Insurance Shopping Study.
Lately, the little guys are warming to television, if only to protect market share.
"We've observed a general trend toward direct-to-consumer marketing from many of the regional carriers who traditionally focused more on marketing to the independent agencies," said Jeremy Bowler, senior director of the insurance practice at J.D. Power.
As more consumers search insurance buying options online, "it has become more important than ever for a carrier to develop brand awareness in the marketplace," Bowler added.
Blunting the competition
Indiana Farm Bureau Insurance previously had a marketing campaign aimed directly at consumers themed: "We're part of your life."
You could be forgiven for forgetting that one.
So the insurer tapped Indianapolis-based ad agency Young & Laramore to build brand awareness and land customers outside Farm Bureau's leading share in the farm-owner's market.
"What we needed to do was overcome that 'farm' mentality and bring the company to the top of consumers' minds," Mann said.
"Our campaign needed to blunt the competition and gain share as the advertising in this category has become more aggressive, both financially and conceptually," said Tom Denari, principal and president of Young & Laramore.
But on a relatively puny $2.5 million annual ad budget (Allstate spends upwards of $640 million), how do you blunt Geico's cuddly gecko? Or how do you top Allstate's "Mayhem" guy, who acts like a dog while robbers loot a house?
Young & Laramore sat down with insurance customers in their homes and started asking questions. One takeaway, said Mann, was that life "is happening very fast around people," whether you're talking about a phone call or a screaming kid.
People don't have much time to stop and think about the particulars of their insurance coverage. When asked whether their existing policy would cover a given peril, they often were clueless and "would literally knock on wood in front of them," Mann said.
"Insurance is such a price-driven product," said Rick Kuster, agency manager at Farm Bureau. "That's why they have no concept of what is covered."
The light bulb went off at Young & Laramore. Its video production partner in New York City—Brand New School—sat people down in front of a desk at Castleton Square Mall. They were asked whether their policy would cover them if, while playing foosball, they accidentally chipped a friend's tooth. Or whether spoiled freezer food would be covered by their policy in the event of a power failure.
The ads show the participants struggling to answer the questions.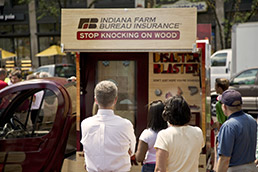 Video game underscores ad theme, harvests e-mail leads. (Photo courtesy of Young & Laramore)
"In the circus atmosphere created by the funny and ubiquitous sponsorships of the competition, we redefined Farm Bureau Insurance as a calm, common-sense company forcing people to confront the fact that they're avoiding the subject of insurance … maybe even knocking on wood," said Y&L's Denari.
'Advocate' image
He said the message for viewers is that Farm Bureau Insurance will help people figure out their coverage, no matter which company they're with—as an advocate, of sorts.
Does it work?
"I'm not quite sure what they're trying to tell me to do," said Michael Hanley, associate professor of advertising at Ball State University and editor-in-chief of International Journal of Mobile Marketing.
Hanley, who used to develop ads while at insurer Conseco, said State Farm's commercials, for example, are clear in driving the connection with the insurer's local agents.
The ultimate question, Hanley said, is, do the Farm Bureau ads appeal to someone who is going to be buying insurance to give the company a look?
"You've got to applaud them for going beyond the appeal they used in the past," he said.
Most of the ads by the big insurers use humor because they're focused on the age 18-35 demographic. After that age, many are already settled into an insurance carrier. Farm Bureau's mix of mild humor with a challenging question might well be attractive, Hanley said.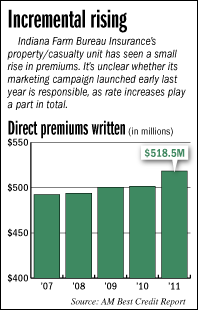 J.D. Power's Bowler said humor is not a must in insurance commercials, "but it has proved to be a good foil for keeping audience attention, as well as propagating 'buzz' in the social media community."
He pointed out that Nationwide Insurance recently abandoned its humorous campaign ("The World's Greatest Spokesperson") in favor of its "Join the Nation" campaign.
This "more sincere" approach, as Nationwide calls it, sounds more like Farm Bureau's tack of encouraging consumers to ponder whether they're covered and to check with the company for helpful advice.
Insurance video games
Meanwhile, Farm Bureau has taken the theme of "knock on wood" beyond TV and radio channels. Brand New School created a rolling video game known as "disaster blaster," which has been hauled to various events, such as ballgames and the Indiana State Fair.
In the game, people are invited to shoot down perils, such as tornadoes, that fall from the sky. Shields of insurance logos fly across the sky to protect property.
The game aims to underscore the theme that life is unpredictable. "People say, 'A video game about life insurance? That can't be,"' Mann said.
Players leave an e-mail address to which their results can be sent and then posted on a social media page.
"It's really a lead generator for us," Mann said.
Already in the works is a mobile app of the game, likely to be released early next year.•
Please enable JavaScript to view this content.