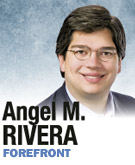 I find it awkwardly self-serving when a candidate for public office tells me the next election—when he or she is on the ballot—is the most important election of my lifetime. This happens at least once every election cycle.
My lack of clairvoyance makes it difficult to predict with any certainty which election will be the most important of my lifetime. At least it is getting easier to see the differences between the two candidates for the open U.S. Senate seat held by Richard Lugar.
The importance of this election for a six-year term is clear. The direction of our government is debated in the halls of the divided Capitol, and the elected officials that we send there must reflect our perspective on government.
The Republican candidate is State Treasurer Richard Mourdock. The Democrat is congressman Joe Donnelly. Beyond their individual ideas and qualifications, the majority party controls the agenda in the Senate.
Mourdock would support the Republican leadership of Mitch McConnell from Kentucky. Donnelly would support keeping Harry Reid from Nevada as president of the Senate. A Republican Senate majority is a real possibility; Hoosiers could be indirectly picking who gets to set the agenda.
Our nation is split among those who trust a larger role for the federal government in the allocation of resources and those who trust ourselves to allocate our resources individually. When voters make their selection, I hope they vote for an agenda of individual freedom and choose Mourdock.
Donnelly voted for health care reform—a combination of tax raises and more government intrusion in our health care—and continues to support the trend of unsustainable deficit spending that is bad for America and contradicts the unkept promises of President Obama during the 2008 campaign.
Donnelly is trying to run away from his big-government record, a record that lacks innovative ideas and keeps America on a path of ballooning deficit spending.
His ads shamelessly portray Mourdock as angry and belligerent. Nothing could be further from the truth. In Indiana we have higher standards for our candidates for elected office.
Mourdock is polite, approachable and respectful. I see him walking downtown and he gets stopped by people who just want to say hello and talk with their public servant for a few minutes. He kindly listens and shares his opinions, too.
In the egotistical world of politics, Mourdock's humility brings a sigh of relief. He was this way when I first met him at a friend's Bloomington law office in 2001 and he discussed the issues of the day with a small group of college students.
He proved his determination by running against an incumbent that seemed impossible to beat, and openly shares his deep convictions about our nation and the responsible role government should play in its success. When tough decisions need to be made, you can count on reasonable answers based on what is ultimately best for the success of Indiana and our nation.
He strikes a good balance between his scientific training as a geologist and his normal-guy personality. He has the backbone to stick to his ideals and advocate for limiting the role of government.
Lugar is a great statesman. We are grateful for his lifetime of honorable public service. In just six weeks, Hoosiers will pick his replacement, and that individual might be the 51st vote that gives his party the majority in the Senate. I hope we elect Mourdock, and I know he will not disappoint us.•
• Rivera is a sales consultant and former at-large city-county councilor. Send comments on this column to [email protected].
Please enable JavaScript to view this content.