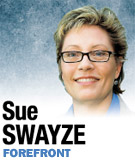 War on women? The only one I see is the plight of the single mother suffering from broken commitments, her own poor choices, and an overwhelmed system poorly designed to serve her and her children.

The triple threat of marital conflict, divorce and out-of-wedlock births has led to a generation of women in poverty and their children at great risk.

Studies now make the causal link between marriage (or lack thereof) and poverty. Census data show that when the War on Poverty began in 1964, only 5.4 percent of Indiana children were born out of wedlock. By 2009, the number skyrocketed to 43.8 percent.

Today's research and our collective experience is replete with evidence that single parenthood is mostly a bad deal for children and their mothers. Some of that research has found that single-parent families with children are more than six times more likely to be poor than families with married parents, and that marriage would drop the probability of child poverty 85 percent. Another study discovered mothers with low academic abilities who married saw their living standards end up about 65 percent higher than those living with no other adult, and 20 percent higher than mothers who were cohabitating.

Indianapolis Mayor Greg Ballard recently said he's convinced of the link between the people in city jails and those who come from broken and fatherless homes. Absent domestic violence, which has higher rates in cohabitating couples than married ones, we know that marriage is a safer, more productive and healthier place for women and children—and men.

So how do we promote marriage, or even just healthier relationships, to reduce so-called baby mama drama?

The federal government has brought healthy relationships/healthy marriage skills and fatherhood programs to those receiving key government services. Coined "marriage education" by researchers, at its core are key skills and competencies to reduce conflict, set goals, show respect and caring, co-parent, and communicate more clearly and with less, well, drama.

Following the lead of Oklahoma, Florida and others, Indiana has several programs offering relationship-skills training. Research shows promise: one-third less likely to break up, lower divorce rates, greater relationship satisfaction, lower levels of physical aggression, and higher levels of positive communication up to five years after the program (more at www.PREPinc.com).

The Indiana Department of Child Services receives federal funds for healthy relationship and fatherhood programs inside Indiana prisons and also in community settings. More than 1,250 people have participated in the courses, complete with workbooks, videos, surveys and hands-on activities.

There is no push to get married. Rather, they emphasize stronger communication skills, respecting healthy boundaries and common goals, and parenting. In one curriculum, there's even a lesson on how to break up if a relationship is dangerous or too chaotic.

An evaluation is required by the federal government at the end, but thus far they've found raging fans. Whether men or women, singles or couples, they report learning new skills and hope that they can put them into practice today and/or choose their next partner in a healthy way.

They also believe they will be better parents. The most commonly asked question is, "Can you teach this to my children before they make the same mistakes that I did?"

We are collectively engaged in this war on women (and children and men). Look up and down your street: How many families still have intact parents?

We've had the most effective weapon all along—a healthy marriage.•

• Swayze leads the Indiana Family Institute's Hoosier Congressional Policy Leadership Series and has held numerous lobbying positions with not-for-profit organizations. Send comments on this column to ibjedit@ibj.com.