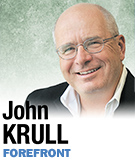 Now that the national political conventions have come and gone and the presidential campaign season is about to reach top gear, at least two Hoosiers have to be watching with mixed emotions.
Hoosier Republicans Mitch Daniels and Mike Pence both got attention as potential GOP presidential candidates.
Daniels, of course, was the more famous case. He did his version of Hamlet for nearly a year as GOP policy wonks all across the country begged him to run, but he then said last year it was not to be.
Instead, Daniels opted to serve as president of Purdue University when he leaves office.
Pence also got touted as a presidential prospect. He instead chose to run for governor, a race he appears likely to win by a handy margin.
Mine is admittedly a minority view, but I thought Pence had a clearer path to the Republican nomination, and perhaps the White House, than Daniels did.
Think about how the Republicans went about nominating their eventual presidential candidate, former Massachusetts Gov. Mitt Romney.
No one candidate generated tremendous across-the-board enthusiasm. Each of the serious contenders was the champion of a particular tribe within the party. Each of those tribes seemed to have suspicions—or even deep reservations—about the other tribes' champions.
Romney was the candidate of Wall Street and the business community. Social conservatives distrusted him because of his seemingly malleable views on abortion and other issues dear to them. The Tea Party didn't like him because his health care reform package for Massachusetts was, in part, the inspiration for the one President Obama and Democrats in the U.S. Senate and House of Representatives pushed through for the nation.
Former U.S. Sen. Rick Santorum carried the banner for social conservatives. The leaders of the business community were not much enamored of his candidacy because they sensed, probably accurately, that his focus would be on fighting gay marriage and abortion.
Former U.S. House Speaker Newt Gingrich tried to present himself as the champion of the Tea Party, but it didn't work. His lack of both personal and political discipline provoked distrust among even Tea Party regulars.
In short, all three of the serious contenders for the GOP nomination were candidates with serious, even profound, flaws.
That's why Pence had a good chance at getting the nomination.
He is one of the few figures in the Republican Party who has credibility with each of the factions in the GOP.
Social conservatives see him as one of their own. The business community knows he will carry water for them. And his rhetoric for years has resembled, if not anticipated, that of the Tea Party.
After Romney gained the nomination, he had to reassure big parts of the GOP base that he was one with them by choosing movement conservative Rep. Paul Ryan as his running mate.
Pence would have provided that reassurance all by himself, which would have given the party the chance to use the VP nomination—perhaps former Secretary of State Condoleezza Rice—as a way to attract new voters.
Daniels would have been a formidable candidate, too. He likely would have supplanted Romney as the candidate of the business community, but social conservatives would have had a hard time forgiving him for his call for a "truce" on social issues. His path to the nomination and victory would have been a tougher road to travel.
Both Pence and Daniels made other choices. Each man claims, as most successful politicians do, that he does not look back or second-guess himself once he makes a decision.
Even so, Pence and Daniels would be something other than human beings if they did not look at this presidential campaign—one in which each would have done well—and think about what might have been.•
• Krull directs Franklin College's Pulliam School of Journalism, hosts the weekly news program "No Limits" on WFYI-FM 90.1, and is executive director of The Statehouse File. Send comments on this column to ibjedit@ibj.com.
Please enable JavaScript to view this content.