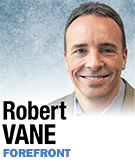 Some random thoughts from attending my first Republican National Convention:
Going to a convention really is a "bucket list" item for those of us who find politics so compelling. I can only imagine what the conventions were like a hundred years ago—much less scripted and scrutinized I'm sure—but there was such tremendous optimism and energy in Tampa last month.
Everyone believes Mike Pence is going to be a winner, and he got a heartfelt reception from the Indiana delegation. Pence has run a sharp campaign based on specific policy proposals and has united the Indiana Republican Party. The Democrats are on a unicorn hunt in their quest to find fissures within the Indiana GOP.
As a speechwriter by training, I was struck by the quality of the written remarks at the convention. Several speakers delivered their speeches well, but the writing was superb. Mitt Romney, Paul Ryan, Ann Romney, Chris Christie, Condoleezza Rice (who eschewed the teleprompter) and Marco Rubio all gave speeches that contained memorable lines that got straight to the point.
Clint Eastwood's performance did not match his presence. The buildup was so great, however, I don't know how his speech could have equaled it. Clearly unscripted, Eastwood did deliver one of the convention's most memorable lines about Barack Obama: "When someone doesn't do the job, we've got to let him go." With unemployment above 8 percent, who can argue with that?
As Democrats continue their ludicrous rant about a "war on women," the best refutation of this divisive political gimmick was the number of female speakers and attendees at the convention.
Rice and Romney were joined by many other women citizens and officeholders. Susana Martinez, a former Democrat, delivered a remarkable speech that included the epiphany (after a chat with her husband), "I'll be damned, we're Republicans." Martinez is now the Republican governor of New Mexico.
Artur Davis, an African-American who is a former congressman from Alabama and who seconded Barack Obama's nomination in 2008, gave a powerful speech regretting his belief in "hope and change" and the need for new leadership. As many black Republicans experience, Davis has been hounded and ostracized for his views by his former party.
Mia Love, a female African-American who is running as a Republican for Congress in Utah, took Obama and Vice President Joe Biden to task for their divisive rhetoric. Her reward? Her Wikipedia page was defaced with words and slurs that the good folks here at Forefront would never print.
The Indiana delegation was a delightful mix of people for whom this was their first convention, and some for whom convention attendance was in the double digits.
Probably the biggest highlight of the week for me was getting to play euchre with ace Republican attorney David Brooks against GOP titans Rex Early and Mike McDaniel. I won't say who won, but I will say my kids' college fund got $16 richer.
All in all, it was an amazing experience. We Republicans have a lot to be proud of and a lot to look forward to come November. We will have old friends in new places (Mike Pence as governor, Richard Mourdock as senator) and a terrific cast of newcomers to political office—Susan Brooks and Luke Messer in Congress and Todd Huston in the Legislature, to name just a few.
Whether all this means Mitt Romney is inaugurated as president in January is too early to call, but Indiana will deliver its electoral votes to him in November and that will go a long way toward getting this country moving again.
P.S. The greatest thing during the convention? P.E. MacAllister turned 94 years old. Happy birthday, my friend.•
• Vane, a U.S. Army veteran, has worked for elected Republican officials including Indianapolis Mayor Greg Ballard, and currently owns the public relations firm Veteran Strategies. Send comments on this column to [email protected].
Please enable JavaScript to view this content.