The Indianapolis Symphony Orchestra's decision to cancel the first two weeks of its season and lock out musicians could carry long-term risks, observers say.

The sounds of Ludwig van Beethoven and Antonin Dvorak were supposed to fill the inner hall of Hilbert Circle Theatre starting Sept. 13.

Instead, musicians spent their days playing on the sidewalk and waving signs informing passersby that their bosses locked them out because of a lack of a collective bargaining agreement.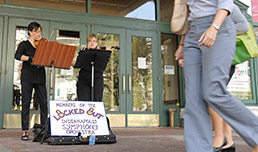 ISO musicians like Dinah Montgomery, left, and Mary Anne Dell Aquila have been performing in front of Hilbert Circle Theatre since management locked them out. (IBJ photo/ Perry Reichanadter)
Subscribers and donors likely won't receive the delay to the concert season well, orchestra consultant Drew McManus said.

"This is one of the variables of a work stoppage, regardless of what kind of work stoppage it is, that can come back and bite an organization," said McManus, who also runs the orchestra news blog Adaptistration.

ISO managers cut the opening weekend's classical Beethoven and Dvorak series on Sept. 13 and Sept. 14, as well as the Time for Three and the ISO pops shows Sept. 21-23.

The organization says it might cancel more concerts if there is no resolution with American Federation of Musicians Local 3.

ISO spokeswoman Jessica Di Santo said in an e-mail that the organization is concerned about fallout from the cancellations.

"If the musicians' union and the ISO are unable to reach an agreement soon, the ISO—our staff, musicians, patrons and supporters—will be negatively impacted," she wrote.

The orchestra's management and the musicians' union have been at odds over new contracts seeking millions of dollars in concessions. The previous agreements, signed in 2009, expired Sept. 2.

In previous negotiations that led to new contracts, the ISO always had extended expired agreements until new ones were reached, said Richard Graef, chairman of the union's negotiating committee.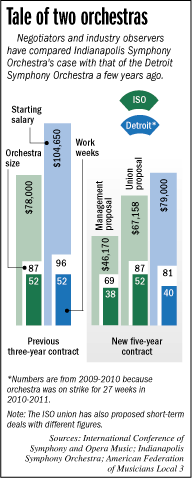 Graef, assistant principal horn in the orchestra, said he was concerned about the organization's ability to recover after musicians return to work.

"If you keep the concerts going, we keep our audience there, we keep our donors, we keep everybody on board," he said.

McManus likened the ISO's lockout to Detroit Symphony Orchestra musicians' 27-week strike during the 2010-2011 season.

The orchestra's year ended with a 24.5-percent pay cut for musicians and a 70-percent drop in program service revenue for the organization.

The concert cancellations had a residual effect. Ticket sales dropped 30 percent the next year.

Paul Hogle, executive vice president of Detroit's symphony, said the organization has been diligent in re-establishing its relationship with the public. But it will take as long as seven years to fully recover.

The fiscal year ended Aug. 31 with a projected $2.5 million deficit, excluding the impact of a settlement reached with lenders on its home theater. The symphony suffered a $9.6 million deficit in 2011 and a $15.8 million deficit in 2010.

"If you get to the point where it is necessary to cancel 'Yuletide', that's where the multi-year impact will be imagined," said Hogle, who was the ISO's director of development from 1988 to 1993.

McManus noted that Detroit's orchestra saw the departure of prominent members, including Emmanuelle Boisvert, who gave up a 23-year tenure as concertmaster for an associate concert master position in Dallas.

Graef said he worries the situation will be similar in Indianapolis if ISO management holds firm on deep pay cuts.

Musicians have begun looking in places such as Oregon and Utah, he said, where the orchestras are smaller with lower pay. But he said the proposed changes at the ISO would place those ensembles above Indianapolis' in salaries and size.•