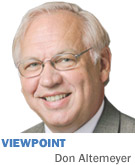 The challenges facing the Indianapolis Symphony Orchestra are now widely known, but many still struggle with how that can be, especially when you look out at the sea of people in attendance at some of our Symphony on the Prairie performances. But facts are facts:
• The ISO just closed its 2011-2012 fiscal year with an operating budget of $26.6 million.
• ISO's earned revenue and contributed income was $14.8 million.
• The ISO Foundation covered most of this difference, but cannot continue to do so at these levels of support and protect the endowment for the future.
Regrettably, revenue from all sources simply doesn't match the excellent talent on stage.
"What kind of a business model is this, where income from performance ticket sales doesn't cover costs?" In the entertainment business, ticket sales seldom cover costs. Consider what Indianapolis Colts and Indiana Pacers player salaries might be without enormous TV revenue. Unfortunately, the ISO doesn't have TV revenue.
Absent a significant injection of funding, the ISO must immediately reduce its operating costs, of which the orchestra salaries, benefits and concert production are about 68 percent. The expenses of orchestra operations, artistic planning costs, administrative costs, and the cost of operating the facilities have already been reduced significantly, and more reductions may be required. ISO has cut the number of employees on staff to 46, down from 78 full-time employees in 2009. Since Jan. 1, the ISO has cut support staff 25 percent.
We all want to retain a high-quality artistic model, but we must work within our financial constraints. The thoughtful proposals made by the ISO board and management team are based on facts, but they also foresee a viable and vibrant orchestra. The middle ground—the compromise we seek—will close the income/expense gap to enable the orchestra not just to survive, but thrive.
The ISO's plan, based on the realities of today's marketplace, preserves the artistic quality of our wonderful performances while supporting operations in an economically sustainable manner for generations to come. In general, we propose:
• Aligning the annual number of performances to market demand while preserving what we do best—classical, pops, Symphony on the Prairie and Yuletide Celebration.
• Maximizing the effectiveness of ISO's efforts to increase its annual fund and endowment. The ISO has a partnership with CCS, a national fundraising consulting firm, and with it, a vice president of development with significant and respected orchestra experience. The ISO intends to expand its already city-leading annual giving campaign of $6.5 million a year by raising an additional $2.5 million per year.
• Continuing our vigilance over all non-artistic expenses, and making additional cuts as necessary to get income and expenses in balance.
• Remaining faithful to ISO's innovative programming strategy that brings in new, young and diverse audiences.
• Staying true to the ISO's commitment to education and community outreach for the next generation of musicians and patrons.
The ISO is too important to fail. We have remarkable musicians, our world-renowned music director and pops conductor, our energetic Time for Three ensemble, and a dedicated support staff. The board of directors is confident an agreement can be reached so that the sea of people at Symphony on the Prairie and Hilbert Circle Theatre will have an economically sustainable and artistically sound orchestra to enjoy for a lifetime.•
__________
Altemeyer is founding principal of BSA LifeStructures and an ISO board member. Send comments on this column to ibjedit@ibj.com.
Please enable JavaScript to view this content.