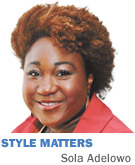 "He looks so professional." 
"She just looks like a leader." 
Even before you deliver your prepared message, your physical presentation has a real impact on whether others will accept or reject your ideas. And, right now, Indianapolis—in the midst of its own important perception-management campaign—still has a ways to go.
Yes, we had a successful Super Bowl and, yes, the Indianapolis Convention and Visitors Association has been renamed Visit Indy. (According to Visit Indy President and CEO Leonard Hoops, the new name is more "edgy, hip, trendy, fun, hospitable and endearing.") We're getting good ink across the country and people are paying attention.
But there's more work to do. For all of us. Every one of us participates in our city's bid to be known for more than corn and racing. It's up to us to present a compelling image that maintains our good-natured appeal while expressing just how forward-thinking we truly are.
Which brings me to the purpose of this new, monthly column. Knowing that we all play a role in establishing Indianapolis as a world-class city, I want this column to be a practical one that helps make modern fashion and image awareness work for all of us.
To be viewed as talented and credible in almost any setting here or across the country, oversized suits, unflattering dresses and disheveled hair simply won't do. It's time for us to do more than show up wearing something comfortable. Our community and business leaders must make sure they are polished, presentable, and well-styled ambassadors. We've come too far as a city to let poor appearance and lackluster fashion get in the way of reaching our goals.
Now, I would be remiss if I ignored the fact that people don't like change. As a certified image consultant who works with both men and women, I've found that most people want to be perceived in a positive light. They typically are aware that models in magazines, actors in movies, or travelers from other cities present a more polished image. But, the mere thought of initiating their own transformation is scary. It's much easier to leave things as is, scuffed shoes and all, than to work on an authentic yet polished image.
Plus there's a very real risk of being ridiculed for daring to try something new.
Notice this is a conversation about image and not just style. Image includes style, but it also considers your personality, your goals, your body type, your work space and other factors that influence your appearance and how others experience you.
In upcoming columns, I'll address a range of topics, including:
• tips for business professionals for adapting their appearance for different audiences.
• fashion trends worth incorporating into your style.
• style challenges for human resources professionals and business owners.
• advice on what to wear (and what not to wear) to various business functions and outings.
• social graces and how they affect perceptions of professionalism.
Whether the goal is to gain new outside investment, land the next Super Bowl, or to make words like, "edgy, hip, trendy, fun, hospitable and endearing" real, our Hoosier hospitality has to go beyond a smile and a handshake. Image matters.
So come on, tuck in those shirts, straighten that hem, and polish those shoes. Because, Indy, we've got places to go.
(And, no, I don't intend to try to make over Indianapolis in New York's image. That wouldn't be genuine.)•
__________
Adelowo is the founder of ImageCube LLC (www.imagecubellc.com), and a certified image consultant of the Association of Image Consultants International. She can be reached at sadelowo@ibj.com.
Please enable JavaScript to view this content.