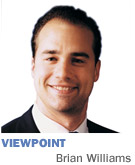 Any successful revitalization of the Market Square Arena site demands restoring the former City Hall as the public's house. City Hall's decaying grandeur casts a long shadow over the neighboring parking lots created by the implosion of MSA 11 years ago and is probably overwhelming the facile designs associated with redevelopment proposals.
Built in 1910 under Mayor Charles A. Bookwalter, City Hall was designed to meet the basic test of civic architecture and to inspire the populace, which its elected officials are sworn to serve. It's still a fine example of Neoclassical Revival architecture, the most popular style for civic buildings in the United States until World War I. The Bedford limestone, marble flooring, mahogany woodwork and stained glass domed skylight demonstrate a focus on quality.
City and county government moved into the City-County Building in 1962, and now there are proposals to sell and lease back the building to a private operator. Such an agreement would inevitably restrict the city's ability to address near-term and long-term building constraints.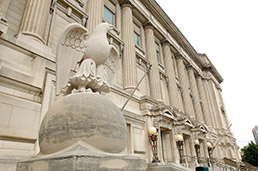 Built in 1910, City Hall is a fine example of Neoclassical Revival architecture. (IBJ Photo/ Perry Reichanadter)
Not only would refurbishing City Hall spark a more holistic and architecturally invigorating redevelopment of the MSA site, but repopulating it with elected officials would remove the physical separation between them and the public they serve. Holding City-County Council meetings in a revitalized City Hall would inspire officials and spectators alike.
Moving the mayor and county elected officials into a revitalized City Hall also would provide much-needed space within the City-County Building for municipal administration and our over-burdened criminal justice system.
The Cultural Trail runs next to City Hall, further connecting the building and the elected officials it houses to the populace they serve.
Moreover, a revitalized City Hall would begin to balance Market Street with the Statehouse anchoring the west.
Finally, an animated City Hall might inspire MSA redevelopment plans to include a civic auditorium that provides practice and performance space for the visual, performing and aural arts, fulfilling Bookwalter's vision.
It is the wisest investment we can make to continue downtown's revitalization.•
__________
Williams is an Indianapolis-based entrepreneur and businessman, who is active in many community organizations. Send comments on this column to ibjedit@ibj.com.
Please enable JavaScript to view this content.