Indianapolis entrepreneur Nick Carter thinks he's found a way to eliminate the "black hole" of marketing data: smart business cards that track how recipients use them.
His ZebraCards use bar codes or quick-response codes to deliver contact information digitally, increasing the likelihood that the cards exchanged at trade shows, business meetings and networking events produce something more than clutter.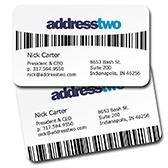 Carter and his team at AddressTwo, a software-as-a-service firm, developed the technology to supplement the firm's primary product, a relationship-management system the 29-year-old designed after a successful stint in sales. Launched in 2008, it now has 10,000 users nationwide.
Existing card scanners help automate the process of transferring information from printed business cards to online sales systems, but fancy fonts and edgy designs often outsmart the character recognition technology.
AddressTwo clients have been clamoring for a better way to collect the data, said Carter, the company's president and CEO.
"The print industry is ripe for technology to innovate its products," he said. "Business cards are the easiest example."
The ZebraCard technology adds value on both sides of the card exchange, ensuring recipients get accurate information—far more than fits on a traditional card—and allowing card owners to see what their new contacts do with it.
When users scan the card code, they see an online ZebraCard.me profile that includes downloadable contact information; clickable links to blogs, websites and social media sites; and an option to reciprocate by sharing their own data.
Card owners, in turn, get a report detailing who visited the profile and what actions they took from there.
"It's a great concept," said Tara Elder, owner of Indianapolis-based startup Simply Helpful. "If it's embraced on a large scale, it will be huge from a business-organization standpoint."
About 50 AddressTwo users have been testing the cards, and Carter is trying to raise $5,000 on crowdfunding site Fundable to pay for the first stage of the development necessary to integrate the technology into a leading card scanning product. With 10 days left in the campaign, 28 backers had contributed about two-thirds of the total.
Count John Jantsch among the supporters.
The nationally recognized small-business expert and "Duct Tape Marketing" author has tried every card-scanning device on the market and is excited about the accuracy ZebraCard promises.
"That's one of its greatest selling points," Jantsch said. "It's very appealing."

Carter
Crowdfunding allows project organizers to raise money without giving up equity. Donors typically earn rewards depending on their level of support. Anyone who pledges $75 or more to ZebraCard gets a personalized code and 250 business cards, for example.
Carter sees the Fundable effort as a way to build awareness, not just the bottom line.
"It's kind of like a bake sale: You're not just buying pie, you're helping the organization selling the pie," he said. "We need critical mass. This technology has no value if our codes are not on business cards."
He could raise the money by soliciting his circle of "friends, family and fools," Carter said, but the Fundable raise is attracting backers who will actually use the technology.
"That's better than $25,000 from Grandma. There's no comparison," Carter said. "We need people consuming our data—that's the value."
Jantsch agreed. He's using ZebraCard's Fundable campaign as a case study for a series of blog posts on the crowdfunding movement.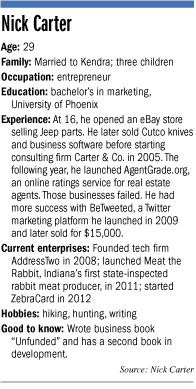 "It is a tremendous way to really build a community around your idea," he said. "If you approach it that way, you're not only getting funded, you're also building momentum."
Users can sign up for ZebraCard codes and the associated profiles for free. The company plans to charge $500 a year to allow organizations with multiple ZebraCard holders to aggregate the usage analytics.
Carter also is hoping to bolster the bottom line by developing relationships with high-volume business card printers that want to distinguish their products from competitors'. And he's already in talks with a branding firm that's interested in private-label use of the technology.
"Exclusivity is going to be part of the business model," Carter said. "We're still working out the details."
Despite his enthusiasm for the ZebraCard concept, Carter is already thinking about his exit strategy. Within a year, he hopes to have at least 10,000 users—a number he thinks will get the attention of card-scanning companies looking to innovate.
"That's the end game," he said. "When scanning companies are consuming the data we provide, that's when all eight cylinders will be firing."
He expects to sell ZebraCard within five years.
"I believe in its value and want to see the business grow," Carter said. "But someone else is better suited to take this idea and give it wings. I'm OK with that."
AddressTwo is another story. The 2008 Mira Award finalist is still growing and still innovating, Carter said, and he has no plans to hand over the reins anytime soon.
"We haven't even scratched the surface there," he said.
Side projects like ZebraCard allow Carter to exercise his entrepreneurial instincts. Last year, he opened Meat the Rabbit, the state's first rabbit-meat processor, to fill a hole in the marketplace—and diversify beyond tech.
"Guys like me have new ideas every week," Carter said. "I probably bring one to alpha or proof of concept every six months. [ZebraCard] is one of the few survivors."•
Please enable JavaScript to view this content.