I've tasted some good food these past few weeks, experienced friendly service and, occasionally, gotten my money's worth as I focused this month's dining columns on Indy's four-wheel eateries. But it wasn't until I found myself deep in the heart of Park 100, in a parking lot surrounded by nondescript office buildings that I found an undeniable benefit to food trucks: They offer a salvation in restaurant wastelands. At worst, they sure beat popping a Lean Cuisine into the office microwave. At best, well, you can get yourself a hearty korrito.
What's a korrito? It's the specialty of Seoul Grill, whose bright yellow and blue truck brightened up the asphalt landscape on my visit. The Korrito ($8) is a cousin to the burrito in which a tortilla is stuffed with either Daejigogi (pork) or Bulgogi (chopped ribeye steak) as well as kimchi fried rice, cilantro and cheese. I went with the Bulgogi, which took the hearty sandwich closer to cheesesteak territory, although the grilled tortilla and Seoul sauce gave it a taste distinct but not too exotic for those who, for adventure, make a Steak 'n Shake run.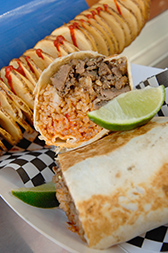 The Korrito from Seoul Grill is stuffed with Bulgogi (ribeye steak) and kimchi fried rice. (IBJ Photo/ Perry Reichanadter)
The Korrito came sided with a Twisted Potato, which would have been perfectly at home at the State Fair. A whole baked potato spiral cut and skewered, it had some deliciously thin, potato-chip-like sections, but most of it didn't hold its oil well, ruining the center of too many slices.
Seoul Grill's parking lot neighbor, In a Pita, offers a Falafel Sandwich ($6) better than those I've had in many local Middle Eastern restaurants. Here, the chickpea balls were given a little mashing before being installed in the pita, helping them flavorfully blend with their traditional surroundings. In a Pita also serves Pita Chips with Hummus, Honey and Feta, or Cinnamon and Sugar ($3 each), but I opted to side with a small cup of Orzo Salad ($3).
Apparently, pedigree helps in the truck business. Both of these are run by descendants of established Indy restaurateurs. Seoul Grill's roots go back to Mama's House and In a Pita descends from Khoury's.
I thought I was done for the month. But, as I was writing this, word circulated around the office that the Some of This, Some of That truck had parked outside. Having sampled Po'boys elsewhere earlier this month, we opted for the Jambalaya ($7), Spicy Jerk Chicken ($10) and Cajun Burger ($6), none of which were served hot (I'm only a few feet and a flight of stairs away). The truck did manage to turn out a moist chicken quarter that fell off the bone and had just enough spice to wake us up during mid-day energy doldrums, although the other dishes lacked the requested kick. There was more satisfaction with the sides. Even the cold Red Beans and Rice were addictive, and the cornbread left me wanting to return for a whole tray.•
—Lou Harry
__________
Last in a month-long series of food truck dining reviews.
Please enable JavaScript to view this content.