John Gregg has launched his fourth in a series of folksy, off-beat television ads.

The Democrat, or as he says in the ads, "the guy with two first names running for governor," has used anecdotes about his buddies, mother and pastor in his hometown of Sandborn to deliver critiques of his opponent, Republican congressman Mike Pence.

While wading into negative territory, Gregg keeps a smile on his face and his tone matter-of-fact. The good-humor approach is new to Indiana viewers, but it's a specialty for Gregg's media consultant, Arlington, Va.-based Mark Putnam.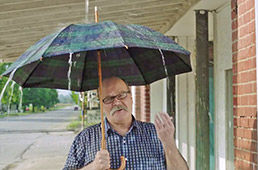 Gubernatorial candidate John Gregg uses humor in a television ad to say opponent Mike Pence would drain the state's rainy-day fund. (IBJ Photo/ Perry Reichanadter)
Putnam may be best known for producing a 30-minute special in 2008 for then-presidential-candidate Barack Obama, but he's also created buzz-worthy ads for state-level races.

John Hickenlooper, elected governor of Colorado in 2010, stood, fully clothed, under a shower while talking about why he wouldn't run negative ads, and added, "Besides, we need the water."

Reminiscent of the "Clip 'n Curl" ad, where Gregg's elderly mother sat under a hair dryer, Alison Lundergan Grimes, elected secretary of state in Kentucky last year, appeared in an ad with her two elderly grandmothers.

Montana Gov. Brian Schweitzer, re-elected in 2008, boasted about his stances against bureaucrats, polluters and lobbyists, who were portrayed by men in suits mounting their horses in the wrong direction.

"They had things backwards, but we got 'er turned around," the plaid-shirted Schweitzer declared before riding off on his own steed.

There are no real zingers in Gregg's latest ad, in which he holds an umbrella to repel a deluge of water coming from some unseen source.

"Mike Pence wants to drain the rainy day fund," Gregg says. "Mike thinks we can just turn the money on and off like they do in Congress. But the state already cut $300 million from our schools. Draining the rainy day fund means even more cuts to education if the economy gets bad again."

As a former president of Vincennes University, Gregg says in closing, he thinks that's "a bad idea." Then the camera pulls away to reveal two boys showering Gregg with a garden hose.

In accusing Pence of willy-nilly spending, Gregg's campaign cites Pence's comments to the Fort Wayne Journal-Gazette, which quoted him in May saying, "My inclination would be to spend past reserves."

The Pence campaign notes that, according to his "Roadmap for Indiana," Pence would keep reserves equal to 12.5 percent of appropriations.