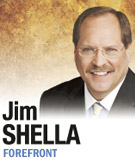 Richard Lugar is leaving the Senate, yet the Republican who lost the May primary election to Richard Mourdock still intends to continue some of the work that defined his life as a lawmaker. Lugar spelled out his plans for the first time in a recent speech to the Contemporary Club of Indianapolis at a dinner staged to honor his more than four decades of service as school board member, mayor and six-term U.S. senator.
Lugar told the sellout crowd of 300 at the Indianapolis Museum of Art that four "challenges" would consume the next stage of his life.
• Feeding the world
• Renewable energy
• Weapons of mass destruction
• Chemical and biological weapons
Hunger has long been a focus for Lugar.
"This problem of feeding the world is increasingly a problem for humanity," said the former chairman of the Senate Agriculture Committee. His remarks followed a tribute from Jim Morris, now CEO of Pacers Sports & Entertainment, who served as executive director of the United Nations World Food Program, a post he achieved with the help of Lugar's influence.
Morris talked about how, in that role, other senators would tell him how much they admired Lugar's leadership. He said that former Arkansas Sen. Blanche Lincoln told him, "I learned more from him than anyone else." When faced with a tough decision, Mississippi Sen. Thad Cochran told Morris, "I ask myself, 'What would Dick Lugar do?'"
Lugar's desire to find energy alternatives has already led to the creation of the Lugar Center for Renewable Energy at IUPUI. The director, Peter Schubert, says he joked during his interview for the job that his middle name is "green." That's when he learned that Lugar's middle name really is Green.
"He's the real guy," Schubert said. "I can't use that anymore."
The Lugar Center is studying such things as renewable hydrogen, advanced battery storage and solar energy.
In his speech Lugar said, "We take the argument of climate change seriously." He said a growing world population requires more resources and he expressed a concern that individual countries will use extreme measures to preserve those energy resources.
No one is surprised that Lugar will continue to pursue the reduction of nuclear stockpiles. Morris said that Lugar's most significant contribution has been peace in the world in the Cold War era. He's been nominated for the Nobel Peace Prize for collaboration with former Georgia Sen. Sam Nunn that began in 1991. Lugar told the crowd that, at that time, the former Soviet Union had 400,000 warheads pointed at every major city in the United States, including Indianapolis.
The senator's concern about chemical and biological weapons he shared with the crowd is more recent. He told of a trip to Africa where he saw the Ebola bacteria and the anthrax virus stored in unsecure facilities near unsuspecting civilians.
The speech Lugar gave that night was extemporaneous and, for the most part, forward-looking, though he didn't explain how he would pursue his goals.
He did take time, however, to reflect. He shared an entertaining story about the behind-the-scenes experience when President Richard Nixon visited Indianapolis in 1970. Lugar described Nixon as anxious and said that, when they returned to the mayor's office on the 25th floor of the City-County Building following a public event on Monument Circle, Nixon was visibly relieved.
"I felt he might collapse," said Lugar, "and I might have to comfort him."
Gone was the bitterness Lugar expressed following his May defeat, replaced by gratitude. He concluded by saying, "You have been most generous. Very few people have been blessed with so many opportunities to serve."•
• Shella is WISH-TV Channel 8's political reporter as well as host and producer of the Emmy-nominated "Indiana Week in Review." Send comments on this column to ibjedit@ibj.com.
Please enable JavaScript to view this content.