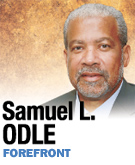 Most would probably agree that a stereotypical picture of homelessness exists. Many think of people dealing with alcohol or drug-dependency issues, dangerous deadbeats and the mentally ill. These stereotypes lead to misconceptions, whereby people don't feel responsibility toward helping address and end this sad and unnecessary issue.
Over the past 10 years, the Coalition for Homelessness Intervention and Prevention has made marked strides in reducing homelessness in Indianapolis. This organization has been guided by a blueprint with a clear mission and ambitious goals—to end homelessness, full stop. CHIP has coordinated a community–wide response and the progress is notable. Their efforts should be applauded. But there is more to accomplish.
While the numbers are down, what is worrying are the new faces of homelessness. The newly afflicted are families with children, making up approximately 28 percent of the homeless population in Indianapolis. This is due to the changes in the new economy and high unemployment pushing more and more families to economic crisis.
On any given night in Indianapolis, more than 3,000 children do not have a home of their own. More than half of these children are under age 12. Children affected by homelessness struggle to keep up in school and suffer long-term emotional effects.
Youth homelessness is also a trend. A recent study reported 24 percent of the homeless in Indianapolis are under age 24, and 16 percent of those are under 18. Many young people report trying to escape severe abuse or having been kicked out of the family home. Many struggle with sexual and gender orientation.
Life on the street can be dangerous and force many to turn to petty crime or prostitution for survival. According to the National Alliance to End Homelessness, it costs $11,800 to house a homeless youth for one year—yet it costs two to five times that for the alternative of placing a youth in foster care, an in-patient treatment facility or jail.
More victims of domestic violence are finding themselves homeless, composing approximately 22 percent of the homeless population on any given night in Indianapolis. Women fleeing with their children often need housing because they have been isolated from social networks and financial resources by their abusers. Traditionally, this group requires temporary housing longer than most populations.
So what have we learned and what's worked well?
The availability of affordable housing in central Indiana has increased. Having an inventory of units available online to social service agencies that are on the front line of support for individuals and families in crisis has been key and must continue to be supported.
Wraparound case management and supportive services such as employment assistance, short-term food support, mental health counseling, child care assistance and school assistance are proving invaluable and must continue.
And we mustn't underestimate the role of prevention in becoming homeless. Earlier intervention could assist with family preservation, housing options and financial solutions.
As we look to the next 10 years and the plan to end homelessness, we must embrace and extend the work of CHIP and remember it is everyone's responsibility to join together. Are the mayor and city council committed? Business leaders? Local communities?
We've built a great safety net that we must now continue to support and strengthen. Every man, woman and child in our great city deserves a warm, safe place to sleep at night.•
• Odle is the former chief operating officer of Indiana University Health and CEO of Methodist and University hospitals. Send comments to ibjedit@ibj.com.
Please enable JavaScript to view this content.