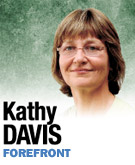 Indianapolis Public Schools and the community centers and ministries of the near-east side came together to apply for a Promise Neighborhood grant—committing to organize supports for students and families around schools in order to significantly improve the educational and developmental outcomes of all children.
As part of Super Bowl XLVI, city leaders and organizations invested $153 million to revitalize housing, streets and sidewalks of the neighborhood with the Legacy Project. The NFL paid $12 million to build the Near Eastside Legacy Center on the IPS campus of Arsenal Technical High School.
The Legacy Center now serves as a hub where neighborhood organizations work together to focus on learning and health and fill community gaps. This is the perfect time to focus on schools and coordinate services to improve outcomes for students and families and transform the neighborhood.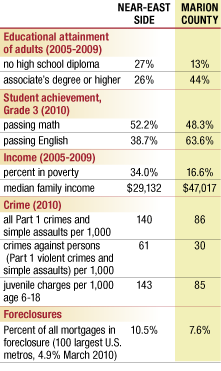 The near-east side is bound by College Avenue on the west, Emerson Avenue on the east, Interstate 70 on the north, and Washington Street on the south. Various sources show this is how demographics of the near-east side compare with the rest of Indianapolis.
The near-east side has a large need, starting with its capacity to provide early learning. The state does not pay for preschool, so the strategy to improve early learning is to transform child care to child development. Two near-east-side day care ministries are the first in Indianapolis to reach level 3 Quality Certification under the Indiana Paths to Quality Rating System. They will form the core of an early-learning network.
The near-east side has community, arts and education organizations, each with proven delivery models, active leaders and the will to succeed at cradle-to-care-ready services. They have a Local Initiatives Support Corp. quality of life plan, community centers with a record of prevailing over poverty, and the experience to grow in a sustainable way. They are already providing cradle-to-career-ready services and will expand and connect and make the most of one another's efforts.
Partners will share a focus on key milestones—reading, ISTEP, developing career awareness starting in fifth grade, and SATs. They will support parents with child development and employment skills. They will provide developmental and mental health services to children in need. They will coordinate a real-time response to the Promise Neighborhood indicators:
• % children with a home that routinely visits a doctor
• % 3-year-olds functioning at age level
• % formal early learning
• At or above grade in math and reading
• Attendance rate
• Graduation rate
• Post-secondary degree or certification
• 60 minutes of exercise daily
• Five or more fruits or vegetables daily
• Students feel safe
• Student mobility rate
• Families read to kids three-plus times per week
• Families who encourage outside reading
• Families who talk about college
• Percent of students with home access to Internet
The near-east side has all the ingredients to make this project go. Inspiration when we need it.•
• Davis is a former Indiana lieutenant governor who owns and operates the Indianapolis technology firm Davis Design Group LLC. Send comments on this column to ibjedit@ibj.com.
Please enable JavaScript to view this content.