Before college, Billy Werth was an ambitious musician interested in rocking out for a living. But then he discovered something he enjoyed even more—being a pilot.
"I thought, 'Oh, the flying stuff is way cooler,'" said Werth, 42.
His passion for cruising in the air has landed him two jobs that pay the bills. He is a commercial pilot with Chautauqua Airlines and a major in the Air Force Reserves at Grissom Air Reserve Base in Peru.
Then there's what Werth calls his "jobby": Since 2006, he has owned an acrobatic flying company called Grayout Aerosports.
"I turned a love of flying and doing stunts on airplanes into a business," he said.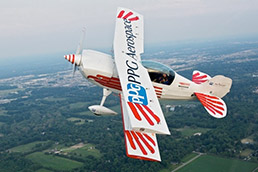 Billy Werth flies an aerobatic biplane in about a dozen shows each year. (Photos courtesy of Billy Werth)
Werth's drum set still sits in the basement of his McCordsville home, but he cast away his musical dreams for more adventurous ones—flying upside down, racing his aircraft against his motorcycle-riding brother (who usually wins), and rolling over in the sky like a puppy fresh from a bath.
Under the mantle of Billy Werth Airshows, he flies a Christen Eagle—a small, two-passenger biplane designed for aerobatics—in about a dozen air shows a year, charging about $2,000 per show. That's usually enough to cover the cost of insurance, fuel, travel and uniforms, Werth said, but money isn't his motivation.

Werth
"It's just kind of more a business of love than of profit," he said.
Werth has one performance left on this year's schedule, Oct. 19-21 in Jacksonville Beach, Fla. He also flew in air shows in Indianapolis and Fort Wayne this year.
"Pretty much every time I take off, the voice in the back of my head is giggling," Werth said. "I can't believe people pay me to do this."
Werth's talent and passion for flying—not to mention his career path—came naturally. His father, Gerry Werth, served in the Air Force more than 30 years, including a nine-year stint at Grissom. Like many military families, the Werths called many places home, but airplanes were always part of their lives.
Gerry Werth encouraged his son to pursue a career that would be more financially reliable than playing music, so Billy enrolled in the professional aviation program at Indiana State University.
"He fell in love and has been hooked on flying ever since," the elder Werth said.
When Billy decided his goal was to be a commercial pilot, his father encouraged him to apply for the Air Force Reserve at Grissom, too. And when his son graduated from the Reserve training program, Gerry was there to pin on his own set of Air Force wings.
"From the very first time we jumped in the airplane in Terre Haute, I knew he had great talent and ability," Gerry Werth said.
During the younger Werth's 16 years (and counting) as a member of the Ready Reserves—meaning he can deploy at any moment—he has specialized in flying the KC-135 Stratotanker. The 41-foot-tall plane with a 136-foot wingspan was made by Boeing Co. in the 1950s to refuel other planes during flight.
Last September, Werth flew the KC-135 to Southwest Asia to gas up a bomber. He has been on a leave of absence from Chautauqua since that 70-day trip.
A refueling mission requires three people: a pilot, a copilot and a boom operator. The pilot and copilot control the plane from the cockpit while the boom operator at the tail directs the fueling hose, also known as the boom.
The pilots pump gas through the boom by flipping switches that open up each tank in the KC-135. There are nine fuel storage units—three in each wing and three in the bottom of the plane—that carry up to 31,000 gallons. The boom can transfer about 1,000 gallons of fuel per minute.
"There's a satisfaction of operating a pretty big piece of machinery yourself," Werth said.
One of his other responsibilities is periodic 24-hour lookout duty, during which he stays overnight at Grissom—donning his olive green, fireproof flight suit—ready to head out on a mission at a moment's notice. He takes advantage of the ample downtime to work on his other businesses.
One of Werth's closest friends is Lt. Col. John Pannell, who was on his first combat mission during Operation Iraqi Freedom in 2003. Pannell said Werth is always busy.
"He's one of the most high-energy, high-adrenaline people I know," Pannell said.
Werth began learning aerobatics in 1991 and was immediately hooked.
He practices his 10-minute air show routine two or three times a week, taking off from his home base at Hendricks County Airport in Danville—no flight simulators or video games for Werth.
It's not a cheap endeavor. Werth has more than $200,000 invested in airplanes, and each tank of avgas costs about $180. Then there's the insurance, "by far our biggest expense," Werth said.
Oddly enough, the insurance rider that allows Grayout to offer flight lessons is twice as expensive as the one that covers air shows.
Grayout also takes passengers on roller-coaster-like airplane rides. Prices range from $185 to $275, depending on how many tricks are performed.
Werth trains pilots in acrobatics for anywhere from $375 to $2,700, depending on location and the amount of air time and lessons. His philosophy is that doing acrobatics in planes isn't just a fun trick to learn, it's also necessary. If a plane gets off track, it's important to know how to make the necessary corrections.
Werth recently had a close call of his own during an airshow. Flying upside down, he accidentally clipped the edges of some trees and put a few dents in his plane.
Still, he doesn't believe stunt flying is dangerous. He practices repetitively, making these tricks routine for him, but still surprising for his audience or guest passenger.
"We're kind of magicians in a way," Werth said. "You want to make the hard stuff look easy and the easy stuff look hard."•
Please enable JavaScript to view this content.