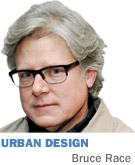 I love it when buildings create, shape and activate spaces, especially public spaces. Unfortunately, since World War II, we haven't had many projects that have given much back to the public domain. So, when the mixed-use CityWay development was talked up by the New York Times last month as a "striking new standard for neighborhood design" for Indianapolis, I thought, "Really?" I had to go back and have another look.
CityWay was conceived by and required the full participation of Eli Lilly and Co. (it's on their land), and also required buy-in from the public sector (the city is in for a 10-year, $86 million construction loan and the state is in for another $5 million) and from the developer, Buckingham Properties. The public-partnership approach complements Eli Lilly and Co.'s ongoing and Rolls-Royce's recent efforts to consolidate their office activities south of downtown.
The site faces South Street and South Delaware Street and was formerly a vast parking lot. In its place is rising a contemporary development desired by a younger knowledge worker. The development includes three mixed-use residential buildings, a 24,000-square-foot office building, 40,000 square feet of retail space, a YMCA, parking and a 209-room hotel.
CityWay's design does a lot of things well. Its site plan is woven into the Indy grid, providing active street edges. Buildings support a walking pace, meaning they have storefronts and ground floors that provide visual interest and social oversight along streets. It looks as though it is ready to be expanded onto contiguous blocks framing and activating South, Delaware and Alabama streets. I like the way the hotel and YMCA will oppose each other, creating a central place along South Street, so we will be able to pass through CityWay rather than simply go past it.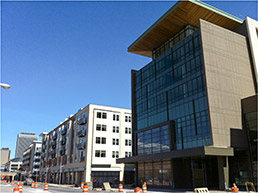 CityWay's South Delaware Street hotel lobby (designed by Gensler) and mixed-use housing (designed by Oz Architecture) hug the street edge. (Photo by Bruce Race)
The site also has its challenges, thanks to development decisions of the past that affect its relationship with downtown. A stroll to downtown from CityWay is not so great, or at least it won't be for the foreseeable future. It takes you under the railroad tracks on Delaware, along the back-of-house dead zone of the Bankers Life Fieldhouse and its parking garage, then you arrive at the Marion County jail. Or, you walk along Virginia Avenue under the railroad tracks and the parking structure cavern before arriving at the jail.
Because this area has been disconnected from downtown for a long time, the center of the neighborhood actually seems to be shifting southeast along Virginia Avenue down to Fountain Square. Virginia Avenue has been experiencing a more organic pattern of investment, responding to the demand for commercial services and food by the growing number of office workers from Lilly, Rolls-Royce, WellPoint, Indiana Farm Bureau Insurance and others.
There has been a fair amount of discussion in the blogosphere about CityWay's architecture. For me, there are two important baseline tests for good urban architecture: Has the project fully organized its development program to create social and economically viable places? And second, do all the design moves express those purposes inside and outside the property line?
Based on my test, you hope a project is not poorly organized and anti-social so it can stretch for contemporary clichés only curators of modern art museums seem to enjoy. I don't see the project contorting itself to do that. It is comfortably urbane, trendsetting for us, and offers lessons for other projects in the Indy development review pipeline.
The New York Times calling CityWay a neighborhood is a stretch. It is a mixed-use project that provides some of the amenities and social energy necessary to help create a larger live-work-play neighborhood. A functioning urban neighborhood has all your daily needs within a reasonable walk. That includes commercial services (groceries and pharmacy), institutional services (schools and libraries) and mobility services (pedestrian infrastructure and transit).
Overall, I like CityWay. It is a sophisticated urban project. But it is not a neighborhood yet. And, not likely to be a neighborhood without all the supporting uses, places and connections that make it part of the city. Until then, I would suggest it is a nicely designed, mixed-use outpost serving the knowledge worker campuses of some of our most important employers south of downtown.•
__________
Bruce Race, FAIA, FAICP, is an award-winning architect and urban planner, owner of RaceStudio and recipient of the Indiana Sagamore Planning Award. He lives in a historic Indianapolis neighborhood and teaches urban design at Ball State University's Downtown Indianapolis Center. His column appears monthly. He can be reached at br@racestudio.com.
 
Please enable JavaScript to view this content.