Anchoring a corner of the Carmel City Center colossus, Matt the Miller's Tavern (11 City Center Drive, 805-1860) springs from a Dublin pub of the same name.

Before you get too impressed, know that its origins are in Dublin, Ohio, not Dublin, Ireland.

Still, Matt's (or, should I say, Miller's?) pays attention to the bar side of the business, housing over 60 bottled beers, with craft beers on tap, and a happy hour with $5 martinis and select appetizers. An after-show drink is now a short walk from the Palladium.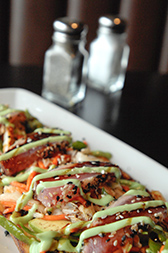 Flatbreads are a specialty at Matt the Miller's Tavern in Carmel. (IBJ Photo/ Perry Reichanadter)
While the tight entry area wasn't yet equipped to handle the crowds on the chilly evening I visited, the restaurant itself is divided into comfortable small areas. When the gotta-try-it-first crowd has moved on in a few months, the place won't feel empty even with fewer customers.

Our visit had enough hits to warrant another trip, but with kitchen misses that I hope aren't chronic. The Tomato Basil Bisque ($4.99) was watery and without much flavor. Our waitress graciously replaced it with a much better Matt's Salad ($5.95/$8.99). Matt's Burger ($9.99) was an expensive and unexciting sandwich with a nondescript whole wheat bun not helped by the onion ring slipped in with the pepper jack cheese, lettuce, tomato and (should be kept) secret sauce. And, from the Sides from Scratch section, we tried to perk things up with White Cheddar Grits ($3.99) and got what tasted like a large wedge of butter.

On the other hand, Pacific Rim Calamari ($9.99), described as offering an "explosion of flavors," actually proved subtler than that. The stir-fried snow peas, peppers and sprouts mixed with peanuts, chili sauce and lime did a delicate dance with their lightly breaded seafood companion. Stir Fry Edamame ($5.99) was even better, accenting the soybean pods with fresh garlic, toasted sesame seeds and the requisite sea salt. I'm anticipating adding that to a future post-show drink.

Matt the Miller's also does well by its flatbreads. The Chicken Avocado ($12.99) had a hint of the honey-lime marinade in its poultry and a refreshing citrus topper of diced watermelon. The sloppier Ahi Tuna ($15.99) featured a creamy miso mousse with Asian slaw, sliced avocado and wasabi aioli that never fought with the tuna flavor.

Boasts of "housemade" usually tempt me, but I won't return to the Housemade Chicken Salad sandwich ($9.99 or halved and combined with a soup or salad for $8.99). The seafood side of the menu might be a better bet, judging from my Roasted Salmon Filet ($16.99)—neatly combined with coconut-edamame rice and grilled vegetables.

Desserts? Like the calamari, the Oreo Cookie Explosion ($6.99) didn't exactly explode, thanks to a lackluster cookie under the pleasing frozen cookies-and-cream mousse. Better was the Warm Banana Bread Pudding ($7.99), a baked blend of cinnamon rolls, croissants, and brioche baked in custard and served with a whiskey caramel sauce, whipped cream and vanilla ice cream.

That's when I felt like it was truly Miller's time. Or Matt's time. Whatever.•

—Lou Harry

__________

First in a month-long series of possessive restaurant reviews.