On a September whim, I decided to visit Bloomington's Lotus Festival for the first time.
In writing that last sentence, I'm sure I've neatly divided the readership into two camps.
On one side, there are readers saying, "What's the Lotus Festival?"
On the other side are those saying, "What took you so long?"
To the first group, I respond: Now in its 19th year, the Lotus World Music and Arts Festival is a multicultural celebration named for Indiana musician Lotus Dickey (I leave it to others to speculate as to how much lunch money of his was stolen because of his name).
To the second group, I say: Yes, I know. And in partial repentance, this year I vow to go out of my way to catch more Indiana events that I've somehow missed in my 16 years writing about the arts here.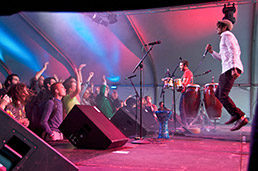 Tunisian singer/songwriter MC Rai rocks in the tent at the Lotus Festival.(Photo/Daniel Axler)
In writing about Lotus, I could talk about the specific acts I saw—raving about Tunisian singer MC Rai and his spirited band or trying to capture the subtlety that makes Irish folk musicians John Doyle and the Vallely Brothers stand out from their peers. I could try to explain Fishtank Ensemble (which wouldn't be easy) or discuss the lulling pleasures of Mali's Fatoumata Diawara. But with all these internationally touring acts off to their next gigs by the time you read this, I think the space is better used discussing some of the lessons
producers and audiences can learn from such a well-produced fest.
Attitude matters. From the wristband-attaching volunteers to the folks selling CDs and T-shirts, nearly every Lotus volunteer seemed genuinely thrilled to be a part of the event. And such pleasant energy makes a difference. It's tough sometimes for organizations to train their volunteers for quality customer service—after all, they are volunteering. But somehow the Lotus volunteers got the message that they are on the festival front lines and the guest experience begins with them. Maybe I missed them, but I also didn't see an overstressed techie, a PR person yelling into a walkie-talkie, or a grumbling roadie. It was, to say the least, refreshing.
You don't have to book everyone. It would be easy for Lotus to feature less-accomplished acts. After all, isn't world music supposed to feel all-embracing? But there's something to be said for a meritocracy when it comes to a quality festival. I bounced around among venues, and every performer I sampled—even if not to my taste—was worthy of the attention with no caveats needed about such diversity being good for you.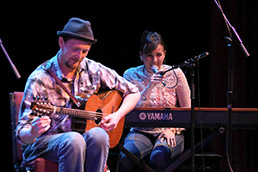 John Doyle (left) and Karan Casey play at the Lotus World Music & Arts Festival.(Photo/Jim Krause)
Risk can be made easy. When you sit down (or stand) at a Lotus performance, there's no requirement or expectation that you commit to the whole hour-plus performance by that act. If it doesn't speak to you—or if you just feel like checking out something else—you aren't looked down upon for leaving between songs. Your wristband (adults $68 for the entire fest, daily rates available too) gets you in and out as much as you please. This exit strategy encourages audiences not to just stick with the familiar but, instead, perhaps take a chance on some Yiddish folk-punk, Brazilian choro, or Balkan brass.
Talent should sound great. It seems obvious, but so often the work of festival musicians is wasted due to poor amplification. If you are going to have a music festival, quality sound is mandatory.
Food matters. In addition to creative, sponsored booths, many Bloomington eateries offered street service, always with a $5 entrée in the mix. While Lotus isn't a food fest, the grab-and-go possibilities—including appetizing offerings from the likes of Farm Bloomington and other top local dining establishments—added to the festival street atmosphere linking the venues. These made it really easy to skip a footlong at Subway.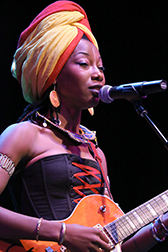 Mali's Fatoumata Diawara performs in a theater at the Lotus Festival.(Photo/Jim Krause)
Your free events don't have to be cheap. While the ticket price may be out of reach for some, there are no barriers to enjoying the street performers or going to the free Lotus in the Park concerts. In fact, one of the most joyful moments for me was seeing dozens of people spontaneously join in a square dance called by Tamara Loewenthal with the able musical support of Brad Leftwich & the Hogwire Stringband. You know those multi-generational, multi-racial, idyllic scenes in movies where everyone in the world seems to get along for a short while? This felt like one of them.
The audience is as important as the acts. The Lotus Festival couldn't have lasted as long as it has without adventurous audiences who understand that quality music doesn't always come from performers with massive marketing budgets. It doesn't necessarily show up on your favorite radio station, and it sometimes sounds a lot better live than it does on your iPod. While I didn't run out to buy any CDs by the Lotus acts, I did make a mental commitment to return next year to see who's playing in Bloomington. Maybe then I'll take advantage of the whole weekend. I might even square dance.•
__________
This column appears weekly. Send information on upcoming arts and entertainment events to lharry@ibj.com.
 
Please enable JavaScript to view this content.