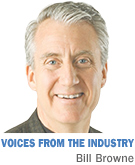 Not long ago, few Indianapolis residents knew about Georgia Street's history or location. It wasn't until the short city street hosted Super Bowl XLVI's widely recognized Super Bowl Village that it was put on the map.

While the Super Bowl provided the impetus for Georgia Street's improvements, civic leaders and designers were committed to creating a captivating year-round outdoor space. They took the opportunity to connect two major city venues—Banker's Life Fieldhouse and the Indiana Convention Center—with a pedestrian experience that features street-side retail and restaurants, and historic markers touting famous Hoosiers.

Taken as a whole, the improvements create a vibrant public space in the city's Wholesale District. An unexpected 1.2 million people coursed through the street during Super Bowl XLVI. That week alone gave the street a level of wear and tear that could have taken years under normal use.

The improvements featured during Super Bowl XLVI represented a significant milestone in the project's schedule. But, in fact, the final touches, and now retouches, to Georgia Street were originally planned to be completed this fall.

Boardwalk

Georgia Street's visitors may not realize that as much is going on underneath the boardwalk as above it. In fact, the boardwalk serves as a semi-open cover for an innovative storm water management system. More specifically, the boardwalk captures rainwater as it passes through the joints to an infiltration chamber that redirects storm water away from the city's overcharged combined sewers.

The system has already begun to reduce the frequency and scale of overflows into the nearby White River. The system will reduce Georgia Street's runoff more than 50 percent during a 10-year rain event and 40 percent during a 100-year storm.

Last fall, the boardwalk was sealed just before its use for the Super Bowl Village. Due to the cold temperatures during installation, the sealer discolored. The sealer is now being removed to reveal a beautiful and extremely durable material.

Solar shade system

Catenary systems have commonly been used to support overhead power supply for light rail or trolleys, similar to those that once traveled Georgia Street. Here, the catenary system was adapted to hang the primary light source for the boardwalk, provide for event-specific themed lighting, and support the retractable solar shades. Once deployed, the shades provide relief during summer months and help establish a unique street character.

Plants

Georgia Street's landscape features large urban trees and ground plantings that support rain gardens. The trees were installed in the fall of 2011, while the remaining plants were installed after February's crowds vacated the city and at a more seasonably appropriate time.

But just as the drought hurt much of our state, so did it damage the plants on Georgia Street. With watering and the recent rain, the plants are now beginning to flourish. Soon, they should provide the green embellishment designers intended.

Pedestrian-first environment

While Georgia Street might look like a trail way, it's still an operating city street. The curb-less, pedestrian-first environment is designed to share space with vehicular traffic while offering a high level of accessibility. Walking surfaces on either side of the drive lanes feature lightly colored concrete pavers to simulate the sidewalks found throughout the historic Wholesale District.

These pavers also reflect sunlight, creating less of a heat island effect. Vehicular lanes are paved with asphalt pavers resembling typical streets but offer a visual texture and pedestrian scale. In addition, the pavers eliminate the need for traditional asphalt patching.

A few of the bollards that mark the line between vehicular and pedestrian spaces have been damaged by turning vehicles. These bollards are being repaired, replaced or, in some cases, relocated. Georgia Street is a new kind of urban space. As such, it will take time for drivers to learn how best to navigate a pedestrian-first street with slower speeds and a higher level of caution.

Community asset

Our community is just now discovering how best to engage this new public space. Indianapolis Downtown Inc., through its leadership as the street manager, is programming Georgia Street to support the existing businesses, entertainment industry, daily outdoor dining, convention-related business, and tourism and community events. Most recently, Gen Con conference attendees used the outdoor space for a mini food-truck festival and a place outside the convention center's walls for interaction. The Pam Am Games 25th Anniversary celebration used the space to host its event, and the new Second Thursday activities promise monthly bands, food, music and socializing.

Indianapolis has gained attention for such urban spaces as the iconic Monument Circle and the Cultural Trail. Over time, as the community along Georgia Street continues to embrace the amenity and with IDI's collaboration and leadership, Georgia Street will take its place as a unique Indianapolis urban environment.•

__________

Browne is president of Ratio Architects Inc., which designed the Georgia Street renovation. Views expressed here are the writer's.