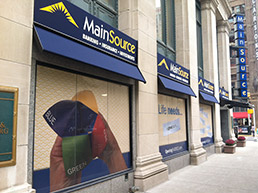 MainSource installed nine awnings, three more than the city approved. (IBJ photo/Cory Schouten)
Greensburg-based MainSource Bank intends to capitalize on its high-profile downtown branch location, which was set to open as IBJ went to press in part of the former home of Borders.
The MainSource name has popped up on nine awning signs along Meridian and Washington streets and on a large vertical corner sign. Yet the city's planning department approved only six awning signs for MainSource.
Senior Planner Jeff York said he asked the bank to resubmit updated plans that reflect all of the signs. He noted the signage is not unusual or inappropriate for downtown.
MainSource plans to operate a full-service retail bank branch in a 4,000-square-foot space on the first floor and a commercial banking and financial advising operation in 5,500 square feet on the second floor. The space has been vacant since early 2011, when the book retailer Borders Group Inc. closed the store as it went through bankruptcy.
The law firm Barnes & Thornburg, which owns and has its headquarters in the building, has not signed a tenant for the remainder of the 22,000-square-foot Borders space.
Real estate industry sources say Barnes & Thornburg has decided against filling the space with a restaurant or other outside user. Instead, plans call for a new upscale lobby for the high-powered law firm.
Please enable JavaScript to view this content.