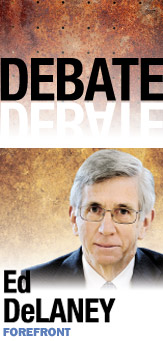 Question: Republican gubernatorial candidate Mike Pence proposes fighting childhood poverty through encouraging marriage, including adoption of so-called family impact statements that would make government agencies describe the impact of rules and regulations on families. Would family impact statements reduce childhood poverty?
Answer: The state could direct $10 million to reducing childhood poverty and require that "family impact statements" be devised as to proposed regulations. The result would be that poverty would be alleviated by the $10 million minus the cost of the impact statements and the cost of the inevitable litigation about them.
In short, the proposed impact statements would do nothing to help children in need. Instead, they would lead to endless disputes as to which families were affected, what constitutes a "family" for this purpose, and what might actually benefit families.
I thought that conservative Republicans had a valid point when they urged us to be wary of costly regulations if they have limited benefit. Sound familiar? So I was surprised at Pence's suggestion.
What would be the fiscal impact of this new requirement? Who would decide which families we want to protect and which children could be lifted from poverty by a particular regulation? What is the cost of this process?
No one disputes the broad proposition that families are critical to the success of our children. Families that are stable and that stay together and work together clearly benefit children. No one in the Legislature, or even in the bureaucracy that Pence is targeting, is unaware of this point. Every vote I take reflects my conscious thoughts about families in general and my deeply internalized love for my own family. Even bureaucrats grew up in families and have homes.
A proposal to turn their pro-family instincts into "impact statements" will do nothing, if enacted. It will impose pseudo-science on us.
Pence proposes to rely on "evidence-based understanding of the roles that families play." This sounds like reliance on philosophy, not science.
Families are not formulas. I am happy to report that families are individualistic, non-mathematical in structure, and vary greatly. They are the product of culture and history, not chemistry. That is why thoughtful people recognize that the Legislature and even the bureaucrats instinctively try to protect these values when looking at any proposed law or regulation.
I trust the congressman is not suggesting that the Daniels administration has ignored families or been unfriendly to them. So just what are we doing with this vague proposal?
There may be some value to this discussion about family impact if it leads us to take a hard look at existing laws and regulations that are supposed to help and to protect children of poverty. Sen. Travis Holdman and the U.S. attorney have brought our attention to pre-kindergarten facilities that are lightly regulated because they self-identify as ministries. There are credible reports of health and safety violations and fiscal fraud at facilities that are meant to help poor children.
Does Pence propose to tighten these regulations or to lessen children's protection based on what the protector claims is the state of his beliefs?
Similarly, the Legislature has created tuition vouchers for poorer children to attend private and religious schools. Yet those schools are not required to be handicapped-accessible. Are only some kids to be helped?
This is the discussion we need. It costs nothing but honesty.•
• DeLaney, a Democrat, represents District 86 in Indianapolis. Send comments on this column to ibjedit@ibj.com.
Please enable JavaScript to view this content.