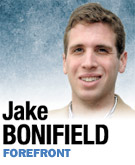 I miss Richard Mourdock. His goofy smile, his bizarre antics, his brand of angry patriotism—all have been notably absent over the past month. Mourdock's disappearance from the campaign trail—save for a few obscure events—and the scant media attention he has sought are undoubtedly reflections of a revised strategy for the fiery insurgent. After defeating an Indiana icon and conservative legend in May, Mourdock is neck-and-neck with congressman Joe Donnelly.
Donnelly, a Blue Dog Democrat, has set about painting his opponent as outside the mainstream. In this particular portrait, Mourdock has provided a helpful canvas.
From insisting that the object of politics was to "inflict [his] opinion on others," to advancing a perverse concept of compromise (namely, the act of bending to his will), to having termed Sen. Richard Lugar's cordial relationship with the sitting president as a "bromance," Mourdock has made perfectly clear his core beliefs and how he intends to function in already polarized and dysfunctional Washington, D.C.
But now, after nearly $8 million in advertising by both sides, it seems Mourdock's GOP handlers have decided this race has become too important to be left up to the candidate. Recent events in Missouri have no doubt inspired some in the Republican Party to go about tightening the reins on candidates whose rhetoric may cost Republicans the chance to retake the Senate. The question is, will this be too little, too late?
Indiana voters face a stark choice in the battle for Lugar's seat, but it is not along lines of ideology, as in the presidential contest, or background, as in the gubernatorial. Rather, the choice between Donnelly and Mourdock is better characterized as a choice between Washington as it might be and Washington as we cannot let it become.
In the history of the Senate, there have been many great debates. Compromises that brought us an expanded nation, an end to war, and expanded voting rights for disenfranchised Americans are the high watermarks of our democracy.
It is difficult to say how history would have played out if the Websters, Calhouns and Clays of our past had been as openly hostile to compromise as the man who seeks to sit in the Senate chamber, but it seems safe to say it would have been sadly different.
A popular fable recounted in Robert Caro's "Master of the Senate," the second in a trio of tomes about the life and career of LBJ, Caro recounts a famous story about a conversation between then-President George Washington and Benjamin Franklin. Franklin returned to Washington from France and learned that Washington had agreed to a bicameral legislature. When asked why Washington had agreed to a House chamber with more populist tendencies and a more stilted upper chamber (at that time elected by state legislatures), Washington replied with an analogy:
"Why," said Washington, "did you just now pour that coffee into your saucer before drinking it?"
"To cool it," said Franklin. "My throat is not made of brass."
"Even so," said Washington, "we pour our legislation into the Senatorial saucer to cool it."
The purpose of the Senate, from its earliest days, has been to act as a matured check upon the coarse tendencies of democracy. No matter his recent change in tone, Mourdock's record and rhetoric each betray a temperament—and temperature—too hot for the Senate.
Indiana has a long record of dedicated public servants embracing compromise and reaching across the historic aisles of the Senate to move our nation, and state, forward.
This year, if Indiana voters cast their ballots with not just an understanding of the candidates' records, but also a sense of history, Senator Donnelly will continue this tradition for many terms to come.•
• Bonifield is president of Hoosier Youth Advocacy, an organization focused on increasing youth participation in the Indiana General Assembly. Send comments on this column to ibjedit@ibj.com.
Please enable JavaScript to view this content.