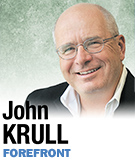 For the past few days, Indiana Republicans have pounded away at a new message in their fight to hold onto the U.S. Senate seat that's up for grabs this fall.
They have bent my ear with the same talking point—a vote for the Democratic candidate, moderate U.S. Rep. Joe Donnelly, will be a vote to keep Sen. Harry Reid, D-Nev., as majority leader in the Senate.
When pressed, they also say the Republican candidate, Indiana Treasurer Richard Mourdock, isn't someone to worry about. He'll be just another reliable Republican vote—albeit one who says strange things from time to time.
Indiana Republicans have decided that Donnelly is either a more elusive target or a tougher opponent than they anticipated. Clearly, they would prefer to run against Harry Reid than they would against a Hoosier moderate who's about as bland as buttered sweet corn.
And Republicans also now seem to acknowledge that Mourdock won't be able to command a majority on his own merits.
Mourdock's poll numbers have refused to budge in the months since he seized the Republican nomination from incumbent Richard Lugar despite the fact that he and the special-interest groups supporting him have spent more on campaign ads than the gross national product of some small nations.
This lack of traction in part can be attributed to the peculiar nature of heavily ideological candidates on both the left and right. They can't signal the willingness to work with others that attracts moderates and independents.
Then there is the strangeness of the advertising campaign supporting Mourdock.
Every informed analysis of this race suggests the key to victory for both campaigns is those disaffected Lugar Republicans who still smart over the insults they felt Mourdock and his team heaped on their leader—and on them.
Whoever gets those Lugar voters wins.
But Mourdock's campaign and his allies have pounded Donnelly with variations of the same message Mourdock hit Lugar with—too willing to work with President Obama, too accommodating to the views of people who have different ideological views, and too flexible in regard to matters of Tea Party and hard conservative dogma.
Now, I admit I am just a simple, unsophisticated Hoosier, but it seems to me that tarring Donnelly with the same brush Mourdock used on Lugar is more likely to make Lugar's voters think Donnelly is closer to their leader than Mourdock is.
It probably is too late in the campaign for Mourdock to try to refashion himself as a less strident figure—if he even wanted to—so Republicans have gone to the Harry Reid Hail Mary pass.
It's doubtful this new approach will work.
Big Democratic gains in Senate races in Ohio, Florida and elsewhere have made the prospect of Republicans' gaining control of that chamber more remote than they were just a few weeks ago.
And, even if the Senate were still in play, the GOP may have chosen the wrong candidate to take out Harry Reid.
Two years ago, in the biggest Republican landslide in recent memory, Nevada Republicans chose as their Senate candidate perhaps the only person in that state Reid could have beaten. They picked Sharron Angle.
Angle was a hard-line conservative determined to restore ideological purity to her party. She was a Tea Party favorite. And she had a gift for making provocative utterances that thrilled those faithful to her but distressed moderate Republicans and independent voters.
In short, she was an awful lot like Richard Mourdock.•
• Krull directs Franklin College's Pulliam School of Journalism, hosts the weekly news program "No Limits" on WFYI-FM 90.1, and is executive director of The Statehouse File. Send comments on this column to ibjedit@ibj.com.
Please enable JavaScript to view this content.