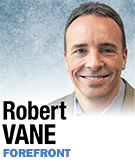 If there is a word to describe the 2012 gubernatorial race, I would have to choose "curious."
Curious because you have one candidate, Republican Mike Pence, who is running a disciplined, positive, issues-based campaign to succeed Mitch Daniels as governor of Indiana.
Conversely, you have another candidate, Democrat John Gregg, who, judging by his commercials, is running a folksy, floundering campaign to succeed Andy Taylor as sheriff of Mayberry.
Judging by the Gregg campaign's television ads, Indiana is just one big Cracker Barrel. Not to bash that restaurant—or its marvelous cuisine—but nothing candidate Gregg has put forth has energized Hoosier voters.
Let's not be too harsh on Gregg. He is, by all accounts, well-liked by members of both parties, and an accomplished man who has dedicated many years to public service.
When we political hacks gather to chatter about the good and bad of this year's races, the Gregg campaign is usually the first item up for skewering. I've defended the campaign (read: kiss of death from a member of the Vast Right-Wing Conspiracy) and have done so based on one simple question—what else was he to do?
The whole nonsensical "Mike Pence is an extremist" attack is the most telegraphed punch in the history of Indiana politics. Everyone knew it was coming, and other than the Occupy Broad Ripple crowd, Hoosiers have rejected it and deservedly so.
Gregg threw the punch anyway. His campaign, while cute in form, has been ugly in tone. The only things I've learned from his Floyd the Barber ads are the wording of his latest attack on Pence and that Sandborn looks like a cool place to visit in the fall.
Contrast this with the Pence campaign. It has issued one substantive policy announcement after another, and backed them up with positive ads that complement what the candidate is saying to Hoosiers every day.
Pence's commercials are completely positive in tone and form. They show him at his best—listening to folks talk about what they expect from their state government (much of it being "just leave us alone and let us do our jobs") and talking about his ideas to keep Indiana moving forward.
For example, Pence's veteran policy proposals are both constructive and comprehensive. (Full disclosure: I serve on his campaign's veteran policy committee.) They include a drive to reduce veteran unemployment, increase educational opportunities, and grow veteran businesses. Every time I see Mike Pence, he talks about how important assisting the nearly 500,000 Hoosier veterans is to him.
Gregg's only veteran policy proposal is to add more veteran service officers as a way of reducing claims backlogs. The problem with this is that the backlog is at the federal level; adding more officers by itself isn't going to solve anything. Amazingly, the Gregg Campaign has simply surrendered on this issue, like he was running for governor of France or something.
Pence's focused policy proposals are proving to be the difference in this year's governor's race. From creating increased economic opportunity for all of us to fostering greater educational choice for parents (and much more), the campaign's Roadmap for Indiana is a superb look at how a Pence administration will make Indiana a state that works.
Will this coming loss mean rock bottom for Indiana Democrats? Only the unions know that answer.
Perhaps it's a little too easy to criticize the Gregg campaign, but the simple fact is the Pence campaign has run a better race.
Pence will be a terrific leader who will grow our economy, create jobs, improve education and provide opportunities for our veterans.
And that's just what the folks at the Clip and Curl want from their governor.•
• Vane, a U.S. Army veteran, has worked for elected Republican officials including Indianapolis Mayor Greg Ballard, and currently owns the public relations firm Veteran Strategies. Send comments on this column to ibjedit@ibj.com.
Please enable JavaScript to view this content.