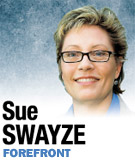 The slogan "war on women" has gained traction in the election, but it is an old notion and a war that's already been won.
The 1960s and '70s hosted the war on women's rights to work, burn our bras, get an equal education and to "choose" not to keep the babies we made. The battles were fierce and created a rift between the sexes. But the birth control pill helped us kiss and make-up, and off to work we went.
So what is today's "war on women" about? Is this the "Medi-scare" of elections past?
It's neither. The real war is about abortion, and it's being fought on three fronts.
One front is taxpayer funding for abortion: Indiana found itself in the fore of this debate in 2011 when the Legislature stopped all taxpayer funds, including Medicaid, to entities that also perform abortions. Several states have since jumped on board, as has the U.S. House of Representatives.
The key here, however, is that no funding has been reduced. Rather, it has been re-routed to abortion-free health providers.
Every woman receiving Medicaid is assigned a primary health provider—a family doctor or internist who does all types of female preventative care, contraception, breast health, etc. If she prefers a clinic, there are more than 1,000 free, rural and low-cost clinics in Indiana that provide cancer screenings and contraception without providing abortion. She can buy contraception at Walmart, and thanks to the Health Insurance Portability and Accountability Act, minors can get birth control from their family doc and he can't tell her parents.
Free-standing family planning clinics are a thing of the past; they have no role in today's medical model. But there is a battle to keep them.
Nationally, this is playing out in the presidential race through ObamaCare. Locally, we've seen it in the Cindy Noe/Christina Hale race in House District 87 with Noe voting to re-route funds to "abortion-free" vendors and Hale saying that is a "war on women." We'll see it in the Senate District 30 race between incumbent Scott Schneider and challenger Tim DeLaney, as Schneider chose to re-route tax dollars to abortion-free vendors and DeLaney is an abortion advocate.
Another front is forced insurance coverage for abortion. More than 95 percent of abortions are done on healthy women with healthy babies. That's not health care, but rather a termination procedure.
Yet a precondition to ObamaCare requires all entities except a teeny fraction re-defined as religious institutions to include contraception, sterilization and abortifacient chemicals in their insurance plans. Lawsuits abound, not just by Notre Dame and other Catholic institutions, but also by some private businesses. Taxpayers who object interpret this as a war on our consciousness and our wallets.
There's a third front, however, that presents a great irony. After Planned Parenthood clinics in Texas and New York offered abortions because patients didn't want their children due to their gender, Congress rejected a bill last May to ban sex-selection abortions in the United States. Obama didn't support it, either. That is a war on unborn women.
"War on women" is a slogan from an earlier time (read: those mean white men who make policy decisions to deny my health care). But it is a paper tiger. Not one dollar has been taken from women's health care. Poor women have their own providers now, contraception is over-the-counter and abortion isn't even health care, anyway.
This is all about getting abortions paid for. And that has become World War III.•
• Swayze leads the Indiana Family Institute's Hoosier Congressional Policy Leadership Series and has held numerous lobbying positions with not-for-profit organizations. Send comments on this column to ibjedit@ibj.com.
Please enable JavaScript to view this content.